Inter-Residence Council (IRC) of Central Connecticut State University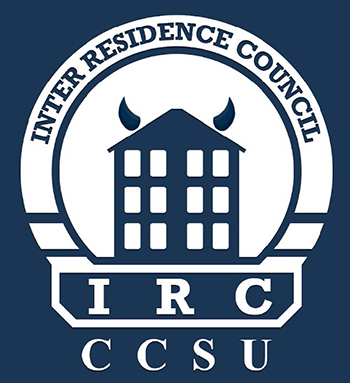 Inter Residence Council (IRC) is an organization run BY resident students, FOR resident students! Our goal is to enhance the living experience on campus through various programs, activities, and initiatives. We take great pride in fostering a fun atmosphere where new friendships can be formed. In addition, students have a unique opportunity to serve as a members of the Executive Board and learn valuable skills in leadership, organization, and communication that will prove invaluable to their professional development outside of college. Students also have the opportunity to represent their hall by serving on their hall council e-board or serving as a representative on one of the various sub-committees. These committees include Food Committee, Dean's Cup Committee, Campus Life and Budget Committee and Dean's Cup Committee. All resident students are welcome and encouraged to participate!
IRC General Body Meetings are weekly, with the date, time, and location to be announced. Please follow our social media pages for updates, program announcements, and occasional giveaways.
For more information on upcoming programs, as well as sub-committee information, please check out the tabs on the left. We are so excited for you to join our thriving campus community!
President – Michael Baechle - mbaechle@my.ccsu.edu
Vice President – Maddie Corey - madelyn.corey@my.ccsu.edu
Secretary – Maria Hester - mariahester@my.ccsu.edu
Treasurer – Tommy Aglieco - tmaglieco@my.ccsu.edu
IRC Advisors - Brendon Goodridge and Matthew Varnum
Have a question? Email CCSUIRC@gmail.com
IRC Is On Social Media!