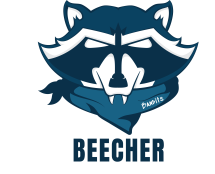 Room Facts
Room Dimensions
12'10" by 13'6"
(Triple Rooms are slightly larger)
Window Dimensions
43" by 53"
Types of Rooms
54 Doubles 7 Triples
Mattress Length
Extra Long Twin
Mascot
Bandit
Building Colors
Blue and White
Resident Director
George Brown III
georgebrown@ccsu.edu
860.832.3439
Office Hours
Monday - Friday
10 a.m. - 3 p.m.
If you crave a spirited community, then Beecher Hall is where you want to be. Home of the Bandits (the hall mascot), Beecher Hall was last renovated in 1998. This three story corridor style residence hall is home to up to 128 students with males living on the first and second floors, and females living on the third floor. Amenities of Beecher Hall include; a common area/game room equipped with a flat screen television, study lounge, and kitchen, all located in the basement. Residents also have access to a 24-hour computer lab located next to the staff office on the first floor. Laundry facilities include three washers and three dryers which run off the Blue Chip Debit Card. Beecher is staffed by four Resident Assistants (RA) and a full time Resident Director (RD).
What the students are saying about Beecher
I like Beecher because of the small number of residents which makes for a friendly environment that's conducive to meeting new people.
-Jeffrey Paul, Senior, Mechanical Engineering
Beecher Hall Photos