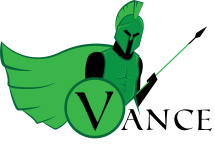 Room Facts
Room Dimensions
10'6" by 14'
Window Dimensions
36" by 64"
Types of Rooms
Quad, 5 Rooms Share a Bathroom
Mattress Length
Extra Long Twin
Mascot
Spartans
Building Colors
Black & Green
*No Air Conditioning 
Resident Director
Gabriella Bierwirth
gbierwirth@ccsu.edu
860.832.1680
Office Hours

Monday - Friday
10 a.m. - 3 p.m.
Vance Hall is a coed "quad style" residence hall with every five rooms sharing a bathroom. Rooms available include standard double rooms as well as single rooms. Each of Vance's seven floors has a lounge and kitchens, convenient for its 160 residents to use. Other amenities include a pool lounge and a 24-hour computer lab, all located on the ground floor. The laundry room contains several washers and dryers that run off of the Blue Chip Debit Card. Vance Hall is staffed by 12 Resident Assistants (RA), and a full time Resident Director (RD).
Vance Hall Photos