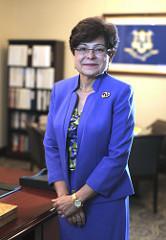 Dr. Zulma R. Toro began her tenure at CCSU in January 2017. Her presidency marks two milestones for CCSU: She is the university's first female president and its first Hispanic chief executive.
Dr. Toro holds a Ph.D. in Industrial and Systems Engineering from the Georgia Institute of Technology. She says she became an industrial engineer to better understand the human side of systems — a perspective she considers integral to good leadership. That approach has contributed to Dr. Toro's long record of student, faculty, and staff success, and it informs her deep commitment to equity in education.
Dr. Toro's body of scholarship reflects her passion for higher education and includes in-depth studies of the needs of under-represented students — particularly young women — who are pursuing careers in engineering and other STEM fields. She has written and lectured extensively on the necessity of preparing more women for science and technology-based work and continues to advocate for better support of women in STEM and academia.
Before joining the CCSU family, Dr. Toro served as the executive vice chancellor and provost at the University of Arkansas, Little Rock; dean of the College of Engineering at Wichita State University, Kansas; Dean of the School of Engineering and Applied Science at the University of New Haven; and the chancellor of the University of Puerto Rico at Mayaguez.
Watch a video about Dr. Toro here