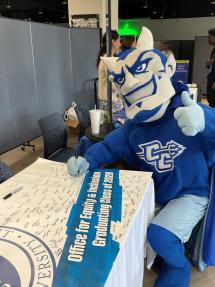 Central Connecticut State University's Office of Equity & Inclusion (OEI) aims to cultivate a campus environment that is equitable, inclusive, and respectful to enable students, faculty, and staff to realize their full potential.
OEI works with faculty, staff, and students to develop and maintain a community of inclusion. We act in a transparent manner guided by respect and professional standards. We also provide training and support on diversity, Title IX, and sexual harassment prevention. OEI is committed to tenets of due process, fairness, quality service, and discretion.
The purpose of the OEI is to build an inclusive community where students, staff, and faculty can participate in a free and respectful exchange of ideas without fear. In establishing this community of understanding, safety, and inclusion, we are preparing students to serve in a diverse world.
Central Connecticut State University is committed to providing a safe and nondiscriminatory employment and educational environment that complies with policies relating to affirmative action, discrimination, and harassment. Sexual harassment, including sexual violence, is a form of sex discrimination prohibited by Title IX of the Education Amendments of 1972.The University does not discriminate based on race, sex, sexual identify, sexual orientation, religious beliefs, age, disability, national origin, marital status, or military/veteran status in its educational, extracurricular, athletic, or other programs or in the context of employment.