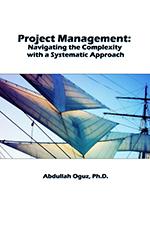 Abdullah Oguz, an Assistant Professor of MIS, published an OER (Open Educational Resource) project management textbook "Project Management: Navigating the Complexity with a Systematic Approach" in October 2022. The book is a product of "Textbook Affordability Grant" awarded to Dr. Oguz when he worked at Cleveland State University.
The book can be accessed on two websites:
https://pressbooks.ulib.csuohio.edu/project-management-navigating-the-complexity/
https://open.umn.edu/opentextbooks/textbooks/project-management-navigating-the-complexity-with-a-systematic-approach
Book Description:
The world has become more complicated with the introduction and development of new technologies and methods, and novel risks such as Covid-19 pandemic. Competition has been tougher than it used to be. Organizations strive to keep up with the changes in the internal and external environment. In the light of unprecedented changes, project managers must be prepared in response to the demands from their organizations and key stakeholders like clients, customers and government agencies. This book covers the fundamentals of project management, and aims to guide undergraduate and graduate students to acquire the building blocks of project management. This book also includes Microsoft Project tutorials for project scope, schedule, resources, and cost, and monitoring and controlling.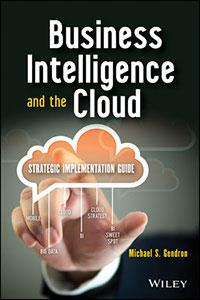 Dr. Michael Gendron is the author of Business Intelligence and the Cloud, Wiley Publishing Company, 2014. He writes that the book "is a jump-start to understanding the emerging technologies of BI, Cloud, Big Data and Mobile. Organizational managers are called upon to understand these technologies, and to craft business and information technology (IT) strategies based on them. This book provides explanations in an easily digestible way so that C-suite members, managers, and staff can obtain the background necessary to deploy the technologies that will bring the greatest competitive return." Additionally, Gendron presents the concept of The Business Intelligence (BI) Sweet Spot resulting from the intersection of mobile computing, cloud computing and Big Data.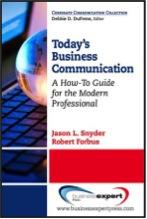 Snyder, J. L., & Forbus, R. (2014). Today's business communication: A how-to guide for the modern professional. New York: Business Expert Press.
Dr. Snyder teamed up with Dr. Robert Forbus (Associate Professor, Marketing, SCSU) to write a guide to business communication for the modern professional. The book is ideal for both business students and practitioners. In it, they provide advice about a variety of business communication situations based on their research, work experience, and interviews with professionals from a variety of fields. One of their goals was to write a book that one could read on a cross-country flight and put to use by the time he or she hit the ground, if not sooner. The book was published by Business Expert Press in January and is available in hard copy and e-book formats.