Q&As
Accounts Payable | Purchasing Card | Travel
Q: How do I get access to Concur and information on submitting a travel request and expense report online?
A: Please visit the CCSU Travel website at https://www.ccsu.edu/fiscalaffairs/travel/index.html. The travel webpage offers information and training resources on Concur, the Travel Request Training Manual, the Travel Expense Training Manual, The CSCU Travel Manual, as well as travel requests and expense report instructions, mileage, approval flow, receipts, GSA domestic and international Per Diem, and many other helpful links. If you have not been assigned access to Concur in the course of your HR onboarding process, you will need to email the travel office CCSUTravelHelpDesk@ccsu.edu or call 860-832-2580 to be set up with Concur access and a user account.
Q: There is fraud on my PCard account, can you call the bank?
A: If there is fraud or the card has been lost, stolen, or compromised in any way, please call the number on the back of your card at 1-800-316-6056 to report the matter and request a new card and send a follow up email to ap@ccsu.edu. If the card account number, security code, and expiration is needed prior to receiving the new card, please email ap@ccsu.edu to have a PCard administrator request this information and share it with you over the phone in order to process an online transaction. The cardholder needs to activate the card by calling 1-866-602-8170.
Q. Is there a way to receive an electronic PCard statement.
A: Yes, either register with JP Morgan Chase Smart Data Online (online banking portal) by visiting https://smartdata.jpmorgan.com/sdportal/home.view, or send an email to ap@ccsu.edu so that the PCard administrator can download and send you the electronic statement.
Q. How do I file a dispute for a charge that the merchant billed incorrectly or for goods not received?
A: If you have a dispute, please attempt to contact the merchant to seek a direct resolution, such as a refund or to have the goods shipped at no additional charge. If the merchant is not cooperating, please contact JP Morgan Chase at 1-888-297-0768 to file a dispute.
Q: How do I prove we are tax exempt?
A: The University's tax exemption number is 06-1303381CSU84000, which appears on the face of each Purchasing Card, directly below the cardholder's name. A copy of the University's agency tax exemption certificate can be found on the Purchasing Forms website. and policy statement PS 98 [4] can be found in the appendix.
Q: Where do I send the invoice electronically?
A: Please email ap@ccsu.edu with the invoice attached as a PDF file and the vendor name and invoice number in the subject and body of the email.
Q: How can our department ensure the student or vendor is paid for services, honorarium, or a stipend?
A: Please complete the Disbursement form located on the Accounts Payable Forms website if the amount is under $3,000.00. Anything over $3,000.00 needs a PSA. In addition to the disbursement form, we need a current W-9 from the payee if one hasn't already been submitted and is on file, as well as a direct deposit form if the student or vendor wished to be paid via ACH.
Q: Why do I need a W-9:
A: The IRS requires us to report certain payments using the payee's SSN or EIN and full name associated with the Tax ID. The Tax ID and name must match the IRS records, otherwise we are required to perform backup withholding at a flat 24% rate. The IRS W-9 can be found on the IRS.gov website, or on our own Accounts Payable Forms website. The IRS W-9 form is also required for setup of a vendor in the university's finance system, where, for example, it would facilitate the Connecticut Department of Revenue Service's tax reporting requirements for certain payments to athletes and entertainers, those vendors participating in the Small and Minority Business Enterprise set aside program, as well as vendors that owe state taxes.
Q: As a department approver, how do I access my departments invoices for review and approval?
A: When the vendor sends the vinocie to Acocunts Payable either as a hardcopy in the mail, a fax, or preferably as an attached PDF file in an email, Accounts Payable will then scan that invoice into ImageNow document imaging system. The non-licensed version, called WebNow, is available for those who wish to review, approve, or forward the invoice to the Accounts Payable Queue at an off-campus location. To request access to ImageNow and WebNow for a department employee, please do so through the ImageNow/WebNow Account Request Form and log in with your BlueNet User Name and Password. You will need to select the department for which you would be accessing and approving invoices for and the type of WebNow access you need.
Q: How do I sign up for direct deposit?
A: Please complete and sign the Direct Deposit and ACH enrollment Form and either email to ap@ccsu.edu or fax to 860-832-2522 to the Attention of the ACH/Direct Deposit Unit, CCSU Fiscal Affairs. Please note, the National Automated Clearing House (NACHA) strongly advises all new enrolments undergo a prenote test for validating enrollee's routing and account number, which will take up to six business days, according to our bank. Please plan accordingly, as any invoice paid before the prenote test has successfully concluded will result in a check being printed and mailed.
Q: How can I view my PCard transactions online?
A: Please use this link: JPMorgan to view your p-card transactions. There are also instructions below for self-registration if you have never been on the site previously.
On the main page of smartdata cardholders will see the self-registration link. Have them click on this and it will bring them to another screen to enter information. Once they put in their full 16 digit card number and the self-registration code (0006128) they will be able to set up their user ID. See below screenshots.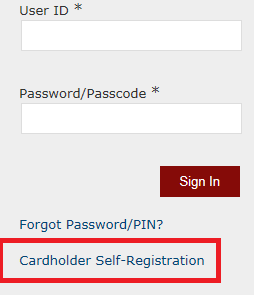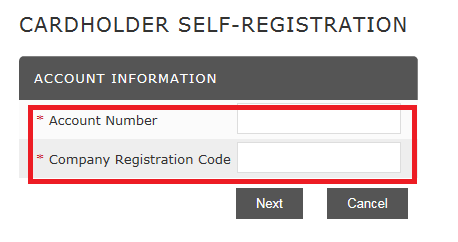 Q: What do I do if I lose a receipt or lack one due to telephone ordering?
A: Please complete the Missing Receipt Form and save with your PCard documentation. This information will be called upon during an audit of your PCard transactions.
Last Updated 04/03/2020