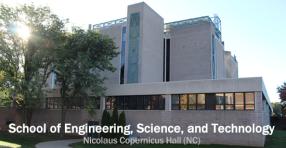 Our Mission


The School of Engineering, Science and Technology will strive to provide an innovative and unique educational experience to every student, develop the most qualified engineers, scientists and technologists. The School will maintain academic excellence in a wide variety of traditional disciplines and develop innovative disciplines in emerging fields, creating interdisciplinary educational and research programs, and building the infrastructure to support the expansion of programs.
The School will be a leader in developing cross-disciplinary initiatives that combine and expand the talents of its students and faculty in all disciplines and prepares our graduates for a multidisciplinary world through a flexible and diverse curriculum; and, meets the needs for a well-educated and skilled workforce.
The School of Engineering, Science, and Technology will provide premier undergraduate and graduate programs in engineering, technology, computing, life and physical sciences, and mathematics. The School will provide a technology-rich, and interdisciplinary learning environment that offers students a rewarding academic experience through experiential and active learning that embraces the concept of "thinking, learning, and doing."
The School will strive to serve a student population that mirrors the diversity of the region and includes many international students. The School aspires to be a leading force in offering a number of creative outreach programs designed to encourage and support all students to pursue careers in science and engineering.