CENtix Box Office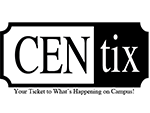 Tickets are available on-line and at the CCSU Student Center CENtix Box Office for campus activities. For more information, click on tickets.ccsu.edu. The CENtix Box Office is located at the Information Desk, located in the Student Center's main lobby. For ticket prices and availability, please contact the Information Desk at (860) 832-1970.
CENtix Ticket Order Form (for Event Planners)
1. Book your space as early as possible with the Central Reservations Office (CRO), located in Room 115 of the Student Center. Clubs and organizations, please submit a request on Club Central. Faculty/staff please submit your request on VirtualEMS. Once space is reserved, inform the Central Reservations Office that you would like to sell tickets for your event. Space must be reserved at least two weeks prior to your event date.
2. Once space is confirmed, submit the electronic CENtix Ticket Order Form. Please use your BlueNet credentials to log in to Club Central to complete the form. Please create a new submission by clicking on the New Submission button in the right portion of the screen. Once you click on the New Submission Button, you will be prompted to complete the CENtix Order Form. Once submitted, the client will be notified when the request has been approved.
3. Tiffany Moffo Simpson, Assistant Director for Student Center Services, or her designee will contact you to review details of the sale and your ticket reporting account.
4. Tickets will go on sale on the date provided, or approximately 10 business days after submitting the CENtix Ticket Order Form. Client(s) providing a list of names must submit form & list 14 business days in advance.
Hours
Thank you for your patronage. The CENtix Box Office is closed for the summer and will reopen on Monday, August 29, 2022 for the start of the Fall 2022 semester.