Clubs and Organizations
CCSU is home to more than 150 student clubs and organizations that provide a sense of community, involvement opportunities, and events and activities for our students.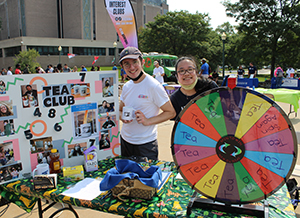 Most clubs fall within the following categories:
Governmental
Academic and Special Interest
Honors Organizations
Professional
Media and Publications
Performance
Fraternities and Sororities
Cultural and International
Sports and Recreation
Religious
For more information, including Club Officer contact info, please visit Club Central and log in using your CCSU student credentials.
If there is a topic or area of interest for which you would like to form a club not already present on campus, please visit the SA/LD Office in the Student Center, Room 201, to meet with an SA/LD Program Advisor.
Program Advisors
Program Advisors are essential to the success of clubs and organizations. Each recognized club and organization needs to have a Program Advisor, and Faculty Advisor, in order to be active on campus. This is to help guide them in goal setting and working towards achieving the purpose of their organization.
Forms
Most necessary forms for clubs and organizations can be found on the Club Central. You must log-in to the Club Central to access these forms. Contact your Program Advisor for assistance with the necessary forms you must complete and when.
Current Student Clubs & Organizations
A Cappella Society
Accounting Society
Actuarial Science Club
Africana Students Organization
American Choral Directors Association
American Society of Civil Engineers
American Society of Mechanical Engineers
Anthropology Club
Arab Student Association
Art & Graphic Design Club
Athletic Training Association
Autism Connection
Battle Bots/Combat Robotics
Best Buddies
Biology Club
Black Student Union
Brazen Blue Devils
Broadcast Club
CAN Central Activities Network
Cancer Awareness Club
Center Stage (Musical Theatre Club)
Central Baseball Club
Central Car Club
Central Cares
Central Golf Club
Central Step & Dance Crew
CHANGE Club
Chemistry Club
Chess Club
Chinese American Students Association
Christian Students at Central
Club Sports Council
COLADA
College Democrats
College Republicans
Collegiate Health Services Corps
Collegiate Ntnl Asso. For Music Ed (CMENC)
Competitive Computer Programming Club
Computer Science Club
Construction Management
Criminal Justice
Cyber Security Club
Dance Team
DanCentral
Ebony Choral Ensemble
Economics Club
Entrepreneurship Club
Equestrian Club
E-Sports Club
Exercise Science Club
Fashion Design Club
Fencing Club
Finance Association
French Club
Future Educators Club
Geology and Earth Sciences Club
Gerontology Club
Girls Connected
Golden Key International Honor Soc.
Graduate Student Association
Habitat For Humanity
Helix Literary Magazine
Hillel
History Club
Human Resources Management
Ice Hockey Club
Information Systems Club
IEEE
Inter-Greek Council
Intnal Asso. Business Communicators
Intnal. Society of Automation
Intervarsity Christian Fellowship
Italian Club
Japanese American Cultural Club
Karate Club
Korean Club
Lambda Alpha Upsilon Fraternity Inc.
Lambda Theta Phi Fraternity
Latin American Student Organization (LASO)
Lunar Exploration Club
Central Marketing Association
Math Club
Men's Lacrosse Club
Men's Rugby
Men's Soccer Club
Mixed Marital Arts for Self Defense
Multi-Powered Vehicle Club
Muslim Students Association
NAMI
National Society of Black Engineers
Newman Club
Outing Club
Pep Squad
Phi Delta Theta Fraternity
Philosophy and Debate Club
Physical Education Health Fitness Club
Physics Club
Poetry Club
Polish Club
Political Science club
Pre-Health Society
Pre-Law Society
Pre-Physical Therapy Club
PRIDE
Prismatic Circle
Psi Chi Honor Society
Psychology Club
Recorder (the)
Schlock
Sketchy
Ski & Snowboarding Club
Social Work Club
Society of Automotive Engineers (Formula)
Society of Manufacturing Engineers
Society of Paranormal Investigations
Society of Professional Journalists
Society of Women Engineers
Sociology Club
South Asian Students Association
Spanish Club
Student Athlete Advisory Council
Student Government Association
Student Nurses Association
Student Organ Donation Advocates
Student Union Board of Governors
Student Veterans Organization
Sustainability Club
Tabletop Gaming Club
Tea Club
Technology Education Collegiate Association
Tennis Club
Theatre Unlimited
The Rubik's Cube/Cubing Club
Tourism & Hospitality
Turning Point
Ultimate Frisbee Club
United Caribbean Club
US Institute of Theatre Technology
Vegan Club
Volleyball Club
WFCS Radio
Women in Stem
Women's Flag Football
Women's Lacrosse
Women's Rugby
Women's Soccer
Women's Volleyball Club