Faculty Publications
The Management Information Systems department is pleased to announce that two of its faculty members have authored books this year.
---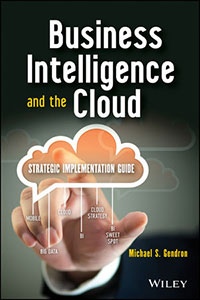 Dr. Michael Gendron is the author of Business Intelligence and the Cloud, Wiley Publishing Company, 2014. He writes that the book "is a jump-start to understanding the emerging technologies of BI, Cloud, Big Data and Mobile. Organizational managers are called upon to understand these technologies, and to craft business and information technology (IT) strategies based on them. This book provides explanations in an easily digestible way so that C-suite members, managers, and staff can obtain the background necessary to deploy the technologies that will bring the greatest competitive return." Additionally, Gendron presents the concept of The Business Intelligence (BI) Sweet Spot resulting from the intersection of mobile computing, cloud computing and Big Data.
---
Snyder, J. L., & Forbus, R. (2014). Today's business communication: A how-to guide for the modern professional. New York: Business Expert Press.
Dr. Snyder teamed up with Dr. Robert Forbus (Associate Professor, Marketing, SCSU) to write a guide to business communication for the modern professional. The book is ideal for both business students and practitioners. In it, they provide advice about a variety of business communication situations based on their research, work experience, and interviews with professionals from a variety of fields. One of their goals was to write a book that one could read on a cross-country flight and put to use by the time he or she hit the ground, if not sooner. The book was published by Business Expert Press in January and is available in hard copy and e-book formats.
---