Microscopy Laboratory
The Microscopy Laboratory is dedicated to student and faculty research. Includes workstations for fluid inclusion micro thermometry, palynology, and petrography. For information, contact Dr. Mark Evans.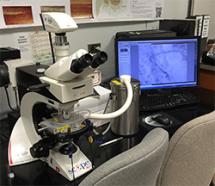 Leica DM-2500 research trinocular petrographic microscope with UV and reflected light capability, Nikon 990 digital camera
Nikon Labophot 2-pol binocular polarizing microscope
Leitz Laborlux 12-pol binocular polarizing microscope
Accu-scope inverted reflectance microscope
Linkham heating-freezing fluid inclusion stage, plus controllers and liquid nitrogen dewar
Two Bausch and Lomb research-grade binocular stereo microscopes
Assorted microscope objectives, including long-working distance and oil immersion, darkfield illuminator, quartz accessory plates, etc.
Two Leitz five-axis universal stages
Sample Preparation Laboratory
Includes equipment used for preparing rock and mineral samples for petrographic and micro thermometric analysis. For information, contact Dr. Mark Evans.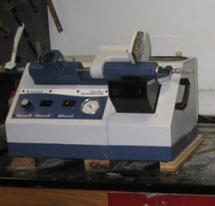 Buehler Thin sectioning system
Buehler Ecomet 3000 grinder polisher and Buehler grinder polisher
10" rock trim saw and 24" rock saw
Sediment sieve shakers and Ro-tap sediment sieve shaker with assorted sieves
Hydraulic rock splitter
15-inch vibrating lap and 24-inch vibrating lap
Apparatus for heavy liquid separation
Hydrogeology/Geochemistry Laboratory
The Hydrogeology/Geochemistry Lab is both a research and teaching laboratory. It is used to investigate water quality and to prepare soil and sediment samples for geochemical analysis. For information, contact Dr. Oluyinka Oyewumi.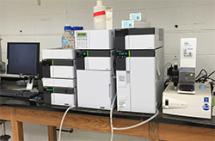 NEW: Milestone DMA-80, Direct Mercury Analyzer
NEW: ThermoFisher Inductively-Coupled Plasma Optical Emission Spectrometer for parts per billion elemental analysis
Low-temperature oven
Thermolyne muffle oven
CEM microwave digester
ThermoScientiic Barnstead Smart2Pure 3 water purification system
Shimadzu high-pressure liquid chromatograph with an ion chromatography
Ohaus microgram electronic balance and Mettler PC4400 electronic balance
Water quality testing kits, Hach pH meter, Hach conductivity meter, and Dissolved Oxygen/Conductivity meter with a 50-foot cable, field spectrophotometer.
Sedimentology Laboratory
The sedimentology laboratory is used to investigate the origin and composition of sediments and sedimentary rocks. For information, contact Dr. Michael Wizevich.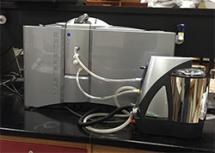 Sensors and Software Ground Penetrating Radar unit with Smart Cart, 100Mhz and 250 Mhz antennas
Rigaku Miniflex II benchtop X-ray diffraction unit
Malvern Mastersizer sediment size analyzer
Sediment sample splitters
Leica DM-EP trinocular Petrographic microscope with accessory plates, Nikon 995 digital camera
Six workstations with groundwater modeling and geochemistry software
Mettler PC4400 electronic balance
Radiation Solutions RS-230 hand-held spectrometer
Computer Laboratory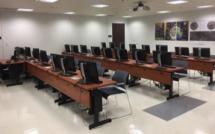 The computer laboratory is used by numerous Geological Sciences classes and labs.
24 PC workstations plus teaching station and projector system
Software includes the Microsoft suite, Adobe suite, ArcGIS, Rockworks
HP 44-inch Designjet printer-plotter
Our planetarium, which seats 100, uses a Spitz 512 star projector to simulate the night sky on our 35-foot dome for astronomy demonstrations and a video projection system for normal classroom and lecture. The Planetarium has two public shows every month and is available for school and community groups. Please visit the Planetarium web page for more information and to contact our planetarium director.
The Observatory is located on top of Copernicus Hall and houses a Group 128 16-inch Cassegrain telescope with an Equatorial mount and Drive system to track in right ascension. It is occasionally open for public viewing. Please the Observatory web page for announcements. For information, contact Dr. Kristine Larsen.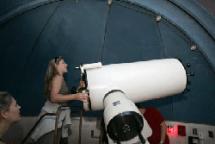 10-inch Meade LX 200 GPS-equipped Schmidt Cassegrain telescope with equatorial wedge and counterweight system for CCD photography. Mount is computerized with go-to capabilities.
13-inch Newtonian Reflector mounted on a Dobsonian alti-azimuth mount.
8-inch Newtonian Reflector mounted on a Dobsonian alti-azimuth mount.
5-inch Orion Refractor mounted on a German Equatorial mount.
Coronado 60mm PST solar telescope for daytime observations of the Sun.
6-inch Schmidt Cassegrain telescope on equatorial wedge mount with solar filter binocular mount and three pairs of binoculars
Santa Barbara Instrument and Meade Instrument Astronomical CCD digital imagers.
Group 128 16-inch Cassegrain telescope with an Equatorial mount and Drive system to track in right ascension.
Miscellaneous Equipment
Pomeroy diamond rock drill and core orienting device
USGS style AA and Mini current flow meters with Digimeter digital readout
Auger soil/sediment sampler
Schmidt hammer
15 Leica DM-EP binocular Petrographic microscopes for Mineralogy and Petrology classes
24 Leica 240EZ binocular student stereo microscopes
Extensive mineralogy, petrology, and paleontology collections
Field equipment including: hard hats, Brunton compasses, Day-glow vests, day-glow highway cones, first aid kits, rock hammers, sledgehammers, and assorted chisels
Surveying rods, Jacob staffs, hand levels, 100 m and 50 m tapes, multiple Garmin GPS units.