Central to Transforming Care.
CCSU's RN to BSN is the perfect place for Registered Nurses wanting to complete their BS in Nursing online. With a faculty made up of RNs active in clinical practice, students are taught by nursing professionals experienced in the challenging and evolving healthcare field.
Depending on transfer credit status, the program can be completed in one year. However, CCSU's Nursing Department understands that students face many challenges in their professional and personal lives and work with each student to offer flexible options to help you meet your goals and objectives.
Program Features
Starts every January and August
120-credit program with transfer credits maximized
Applicants in their final year of a diploma or associate degree may be accepted on a provisional basis (while awaiting NCLEX results)
Attend full- or part-time
100% online with access to on-campus faculty and resources if needed
Community immersion experience
Access to state-of-the-art simulation suites and laboratory
Free one-year subscription to Grammarly
Free on-campus childcare
Financial aid and scholarships available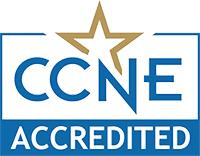 CCSU nursing programs are accredited by the Commission on Collegiate Nursing Education (CCNE), 655 K Street, NW, Suite 750, Washington, DC 20001, 202.887.6791.

CCSU's Nursing Department is a member of the
American Association of Colleges of Nursing (AACN)
.