Central to Innovating System Production.
CCSU's BS in Manufacturing Engineering Technology provides graduates with solid knowledge and marketable skills in applied engineering. With a solid foundation in the sciences complemented by general technical mechanical and manufacturing courses, as well as manufacturing-specific technical courses, students become adept in engineering graphics, 3D modeling, engineering materials and mechanics, manufacturing processes, instrumentation, hydraulics and pneumatics, electronics and electric power, CAD/CAM, geometric tolerancing, design, and engineering economics.
Students graduate with expertise in state-of-the-art computer tools used by major corporations, and their ability to solve real-world engineering problems makes them highly sought after by industry recruiters.
Program Features
Well-balanced mix of analytical, experimental, and hands-on activities
Classes on campus, online, and in hybrid format
Two-semester, sometimes industry-sponsored, capstone design project
Learn from excellent instructors in high-tech classrooms that provide real-world experiences and examples
Attend full- or part-time
Internship opportunities
Financial aid and scholarships available
Free on-campus child care available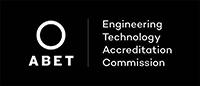 The Manufacturing Engineering Technology program is accredited by the Engineering Technology Accreditation Commission (ETAC) of ABET.