The Criminology and Criminal Justice Department is proud to offer externships (i.e., short-term, experiential learning opportunities with local police departments). The externships take the form of college police academies, allowing our students exposure to the police profession early in their academic careers. Early exposure helps students decide if a police career is a good fit for them, builds their professional resume, creates a working network with area professionals, and helps our students secure employment upon graduation.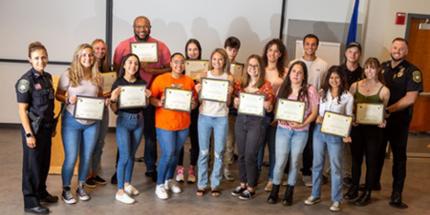 Students should be aware that these programs are externships meaning they are shorter in duration than a typical internship. While they DO NOT meet the full requirements of an internship for CRM 435: Supervised Field Studies in Criminal Justice, some hours from these externships may be applied towards CRM435 at the discretion of the Internship Director.
Current Opportunities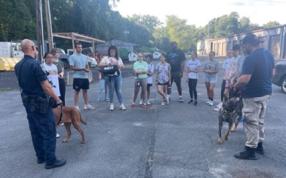 New Britain College Police Academy
The College Police Academy is an externship program that allows students to learn about the police profession while embedded within a police agency. This experiential learning and professional development opportunity is offered to undergraduate students, with priority given to Criminology Majors. Students will be exposed to the department's organization and rank structure, operational logistics and strategies, the generalist and specialist duties of sworn and civilian personnel, the application of law and administrative procedures, and community engagement. The academy provides students with an early opportunity to explore the career track. Typical programming requires a 4-week commitment. Students will be required to travel to the host agency approximately twice weekly for about a three-hour session.
Prerequisites
CRM230 (preferred) and a cumulative GPA that is greater than or equal to 2.0 (preferred).
Please submit special circumstances and/or questions to the program coordinator. Programming may be subject to change based on scheduling needs. Enrollment Period for the New Britain College Police Academy is rolling (or ongoing) you can apply at any time to be considered for a future academy. New Britain PD intends to offer this academy in the Fall, Spring, and Summer. Dates and times past the current announcement are TBD.
Admissible credit towards CRM 435: Supervised Field Studies in Criminal Justice
Upon successful completion of the New Britain College Police Academy, Criminology Majors may apply up to 20 hours to CRM 435: Supervised Field Studies in Criminal Justice per permission of the Criminology Department Internship Director.
Contact Information
Program Coordinator
Eric Dlugolenski, PhD
edlugolenski@ccsu.edu
RVAC 208-07
860.832.3133
West Hartford Police Department College Academy: Behind the Badge Program
"The West Hartford Police Department proudly offers an internship specifically designed to expose college students to life, "Behind the Badge." Hollywood and the media portray law enforcement careers as one of high speed chases, crime scenes and investigations where criminals are tried and convicted all before the commercial break. The objective of this program is to address the misconceptions of police work and give students a realistic snapshot of what a career in law enforcement really entails.
The Behind the Badge program is unique as no other internship in CT provides participants with this level of education integrated with hands-on experience. This program is specifically designed to move students forward in their pursuit of a career in law enforcement, as well as, to give those students who are still considering such a career more information. This course will help build individual character and provide a strong base for any chosen career path."
Interested students can apply via the West Hartford website: The College Academy: Behind the Badge Program