O'Neill Public Service Scholarship
for students enrolled in CCSU's Educational Opportunity Program (EOP)
History
A Public Service Scholarship program was established in 2009 to honor the legacy of the late Governor William A. O'Neill. Former Governor O'Neill was not a rich man. He was a dedicated, honest, hard-working, and compassionate man with good values and common sense. He realized and appreciated the value of education and, as governor, increased funding to Connecticut colleges and universities.
These scholarships are specifically intended to support students in CCSU's Educational Opportunity Program (EOP) who seek to follow the remarkable example set by Governor O'Neill during his long and distinguished career of public service. A portion of the earnings from the O'Neill Endowed Chair endowment is used to support scholarships for undergraduate students who are pursuing a degree program leading to a career in public service (e. g., government, education, not-for-profit, etc.).
The first scholarships were presented by Mrs. Nikki O'Neill to three incoming EOP freshmen at the EOP awards banquet held on August 6, 2009. Each recipient received a scholarship in the amount of $2000 for the 2009-10 academic year. The first recipients were: Mr. Franklin Rutledge (Bristol); Ms. Genesis Ladinez (Norwalk); and Mr. Jose Cadiz (Hartford).
Since 2009, the Chair has provided $300,500 in Governor William A. O'Neill Public Service Scholarship program funds for EOP students. To date, 79 individual EOP students have received 189 scholarships.
Continuing Governor O'Neill's Legacy
These scholarships have become a core part of the O'Neill Chair's mission, and perhaps established Governor O'Neill's legacy at CCSU most concretely. They also contribute to the University's goal of recruitment and retention of under-represented students.
EOP Scholarship Spotlight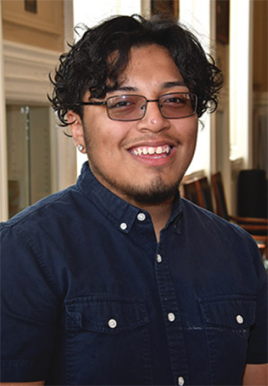 "When I received this scholarship, I was so proud of myself that I almost cried because I was always told that I wasn't good enough for college or not "college ready. But, here I am working and striving to get my bachelors in Biomolecular Science and hopefully graduate with a 4.0 GPA."
— Austin Lopez
Biomolecular Sciences Major
Recipient, Governor William A. O'Neill
Endowed Chair Scholarship
Relationship with EOP
The O'Neill Endowed Chair and Center for Public Policy and Social Research (CPPSR) have cultivated a special relationship with EOP and its students. EOP students collaborate in the development and implementation of our public policy forums and events. EOP students and faculty are connected to the vast resources of the John F. Kennedy Presidential Library in Boston through CPPSR Executive Director Steven Kliger, who also serves as a docent at the Library, and has held that position for the past 14 years.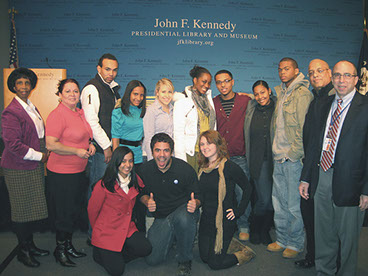 EOP tour and attendance at a forum at the John F. Kennedy Presidential Library in Boston, Mass.