This annual celebration of student work was established in 1998, guided by the work of the National Conference on Undergraduate Research, whose mission is to promote undergraduate research, scholarship, and creativity in all fields of study. A longtime member of the Council of Undergraduate Research, Central sends a group of exemplary students to the National Conference of Undergraduate Research each year, with the students representing the fields of Science, Technology, Engineering and Mathematics; Arts and Humanities; and Social and Behavioral sciences.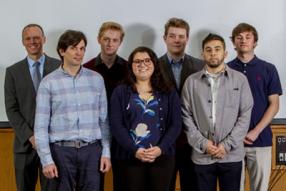 2020 URCAD Research Award Winners
View 2020 Virtual Presentations Here
Undergraduate
Sara Duprey (Advisor Dr. Beth Ghiloni-Wage); What's Love Got To Do with It: Brand Perceptions of Central before and after the Innovations in Marketing Conference
Serena Nadeau (Advisor Dr. Brian Sommers); A Changing People in a Changing World: Bohemian Modernism in the Van Life Community
Jordan Swilling (Advisor Dr. Tan Leng Goh); Health - Do physical educators value it?
Tanner Brault (Advisor Dr. Sarah Maurer); Phase Transfer properties of AMP, ADP and DNA into solvents
2020 Graduate Research Awards
Doctoral
Alicia Farris (Advisor Sally Drew); Investigating Response to Intervention (RtI) Implementation Integrity in Elementary Reading Instruction in Connecticut's Schools
Master's
Zachary Lane (Advisor Jess Smith); Selective Breeding of Ferroglobus placidus for Lab Utilization
2020 Elihu Burritt Library Research Award Winners
Moriah R. Maresh; A Person Needs Teeth to Eat: Food in Franz Kafka's "The Metamorphosis"
Thomas Vaughn; Prosperity of the Children of Connecticut Witches
2019 Undergraduate Research Award winners:
Isaac Diaz (Advisors Thomas Mione and Benjamin Blackman-UC, Berkley); Variation of UV Absorption, Architecture, and Flowering Time in Helianthus Annuus
Chris Oville (Advisor Nimmi Sharma); Aerosol Measurements at Mauna Loa Observatory Using Biostatic Laser Radar
Caleb Pittman (Advisor Jerold Duquette); Analyzing Democratic Presidential Primaries Through the Lens of Daniel Elazar's Political Culture Typology.
Brennan Schliphack (Advisor Heather Rodriguez); A Sociological Perspective on Catholicism: A Qualitative Analysis of the Effects of Religion on Young Adults.
These students were selected by a panel of Central faculty and staff from a pool of many worthy projects.
2019 Graduate Research Award Winner:
Brian Graca (Advisor Yan Liu); A Study of Longitudinal Academic Achievement in Connecticut Public School Districts and its Dependency on Resource Allocation
2019 Elihu Burritt Library Research Awardees:
Jonathan M Kryzanski, "Cognitive Benefits of Language Learning"
Helena L Swanson, "Perceived Control and Academic Performance: The Mediating Effect of Good Nutrition"