Undergraduate Research Projects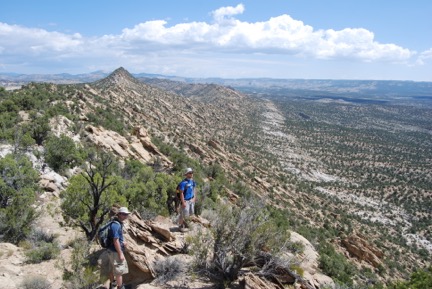 All students are encouraged to undertake independent research projects with Geological Science or Science Education faculty. Involvement in research projects gives students experience with research techniques and methods, as well as experience with laboratory instruments, field equipment, and analysis software applications commonly used in industry.
All Geological Sciences majors are required to complete a Senior Project. The results of many of these projects are presented at regional or national meetings: the most recent presentations are listed below.
---
▼

Northeast Section Meeting of the Geological Society of America, Hartford, CT, March 2021 (online meeting)
▼

Annual Meeting of the Geological Society of America, Connects 2020, Virtual Meeting
▼

Northeast Section Meeting of the Geological Society of America, Reston, VA, March 2020 (cancelled)
▼

Annual Meeting of the Geological Society of America, Phoenix, AZ, October, 2019
▼

Northeast Section Meeting of the Geological Society of America, Portland, ME March 2019
▼

Annual Meeting of the Geological Society of America, Indianapolis, IN, October 2018
▼

Northeast Section Meeting of the Geological Society of America, Burlington, VT March 2018
▼

Northeast Section Meeting of the Geological Society of America (2017)
▼

Northeast Section Meeting of the Geological Society of America (2016)
►

Lunar and Planetary Science Conference (2016)
►

National Meeting, Geological Society of America (2015)
►

Northeastern Section Meeting, Geological Society of America (2015)
►

Northeastern Section Meeting, Geological Society of America (2014)
►

American Astronomical Society (2014)
►

Northeastern Section Meeting, Geological Society of America (2013)
►

National Meeting, Geological Society of America (2013)
►

Northeastern Section Meeting, Geological Society of America (2012)
►

Northeastern Section Meeting, Geological Society of America (2011)
►

Northeastern Section Meeting, Geological Society of America (2010)
►

Northeastern Section Meeting, Geological Society of America (2009)
►

Northeastern Section Meeting, Geological Society of America (2008)
►

Northeastern Section Meeting, Geological Society of America (2007)