WHO IS THE FYC PROGRAM FOR?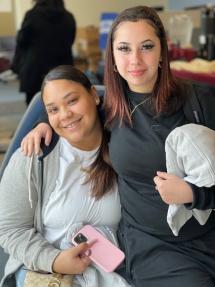 First-Year Connected (FYC) is a CCSU program designed specifically for first-year or first-generation students. Sign up and you'll be matched with a knowledgeable, compassionate University staff member who will be your non-academic coach.
ABOUT THE PROGRAM
Mission: To provide one-on-one support to students who need help juggling the many responsibilities of college life.
Vision: The FYC program was created in 2019 by the President's Office in collaboration with the New Student Programs to provide an extra layer of support for our first-generation students.
Goals: To enhance the experience of first-year and first-generation students, and to provide a direct link to campus resources to assist in their transition to college.
WHAT WILL YOU GET BY SIGNING UP?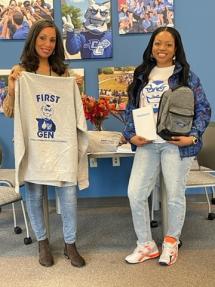 CCSU students who sign up for this program will be matched with University staff who serve in voluntary roles as non-academic coaches. These coaches provide guidance to students as they navigate their way through the college experience.
FYC coaches offer personalized support to students, answer questions, and provide direction for accessing campus resources. Making connections to the campus community is a critical aspect of a successful transition to college. Some examples of questions that our coaches can help with include: "How do I get involved?", "When is the FAFSA due?", "Where do I go for tutoring?" or "Do you know of any on-campus jobs?". According to one FYC participant, "I liked having somebody there to always motivate me and guide me in the right direction whenever I was feeling lost in the process."
Students who participated in the FYC program during the 2020-21 academic year reported higher levels of student success in the areas of overall grade point average (GPA), academic standing, credits attempted and completed, and retention.
What Students Liked Most About Having a Coach: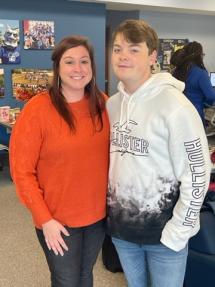 Someone by their side helping them navigate their first year

Having a resource for important information and helpful advice that made transition easier

#1 motivator and supporter to talk to about life and college

Reliable reminders about upcoming deadlines, activities and scholarships
What Students Found Most Helpful in Their Coach:
Regular check-ins
Learning about important campus resources & deadlines
Advice, Advice, Advice
"The most helpful information that my coach provided is the Undocumented Student Scholarship opportunity. Had it not been for my coach, I'm sure I would have missed out. They also let me know about ways to maintain and attain scholarships through keeping good grades, involving myself in school programs, etc."
"I liked having someone to talk to about my school programs and that was willing to help without judgment. Having a second opinion from someone that knows the school to help with my decisions was greatly appreciated."
"Being able to have someone that you could ask questions and just having a friendly face to look for on campus."
"My coach was very helpful. She would always try to get me involved with campus activities and our meetings were always a breath of fresh air away from the chaos."
"I liked how responsive and in touch my coach stayed with me. When I didn't know what to do, I sent them an email and they were quick to get back to me with helpful information."
"I was able to express my feelings to someone and not feel alone on campus."
"Having somebody there to answer my questions and reassure me that whatever is running through my head about college is perfectly normal and okay. My coach has been my number one motivator throughout this process and my biggest supporter."
"My coach was awesome! She provided resources and information whenever I had a question. Very easy to talk to and supportive."
HOW DO YOU SIGN UP?
Students participating in the FYC program will be invited to complete a brief intake form and view FYC coach bios to choose their top three coaches. Final coach assignments will be completed by FYC leadership using the student intake forms and the selections made by students. Coaches will begin reaching out in September and begin guiding their new team of students through their first year at CCSU.