Minors in Writing at CCSU!
Community Engagement Projects
Students in the Writing Minors often work on community related projects as part of course curricula. They donate their writing and editing skills to an organization and produce magazines, exhibits and/or mixed media installations. Past projects have included:
*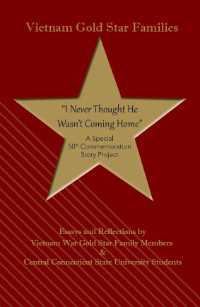 Gold Star Magazine and traveling exhibit to honor the stories of families that lost a son or daughter in the Vietnam War; produced in tandem with the Library of Congress and Connecticut Veteran's History Project to commemorate the 50th anniversary of the war.
*Aging in Connecticut, magazine project done jointly with the town of Southington and CCSU's Gerontology program
*Nuts and Bolts, an exhibit of photos and text based on interviews with former workers in New Britain manufacturing; done in tandem with a statewide CT at Work series of exhibits funded by the National Endowment for the Arts
Project 2020
Coming Back into Freedom
Voices on Health, Housing, Work
Special Edition of the Department of Correction magazine on Reentry
Produced by the WRT385 Writing About Health class, spring 2020 in partnership with the DOC and the Institute of Municipal and Regional Policy, and funded by a CCSU Faculty Senate Community Engagement Committee grant.
Traveling exhibit on Reentry in the 21st Century