Digital Printing & Graphics Technology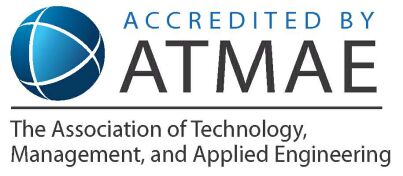 Bachelor of Science in Digital Printing & Graphics Technology program is accredited by the Association of Technology, Management, and Applied Engineering (ATMAE), 1390 Eisenhower Place, Ann Arbor, MI 48108, tel. 734-677-0720, (http://www.atmae.org/). ATMAE is a member of the Association of Specialized and Professional Accreditors (ASPA). This accreditation provides recognition of the attainment of professional goals and standards for Industrial Technology. The curricular pattern is reviewed in terms of stated objectives, content, methods, supporting resources and evaluation systems.
Program Description:
Over the past two decades, the printing (or the graphic arts or the graphic communications) industry has been revolutionized. Technology, workflow, management strategy, markets, customer expectations have changed. These changes have resulted in both opportunities and challenges and have created a need for college graduates who understand the entire graphics and print media process and possess the skills necessary to manage print and graphic manufacturing operations. Today, print is just one of many media channels which consumers can access. The value and role of printing is changing. Today, the use of print is merged across multiple communications channels, such as: web, mobile, and social media. Due to advancements in computer networking and digital printing technologies, print media has become a powerful multi-channel marketing and communications tool. Greater technical competence and expertise is required to control and manage the technologies and resources used in the print and media industry.
The degree program (B.S., in Digital Printing & Graphics Technology), will prepare graduates for careers in printing and associated industries (Commercial Printing, Digital Printing, Package Printing, Graphic Design, Advertising/Display Graphics, Direct Marketing Media Technologies and Imaging). The program prepares its students to be managers who are leaders, motivators, and communicators, and can deal with business issues ranging from policy information to production efficiency. The new degree program at CCSU is the only program in the New England states preparing graduates for productive careers in the printing and associated industries. The new program covers digital pre-media, digital printing, color reproduction, digital photography, graphic management information systems, press and post-press operations, as well as science and analytical mathematics, supplemental computer related courses, business and management courses that round out the curriculum.
Career Outcomes:
The majority of our graduates are employed by the industry as: Plant Managers, Production Supervisors, Job Planners/Estimator, Customer Service Representatives, Pre-media technologists, and Print Quality Coordinators. Some of the program graduates own printing and graphics businesses.
Program Sheet and Program Flowchart:
Bachelor of Science in Digital Printing and Graphics Technology
Type of Degree:
Bachelor of Science in Digital Printing & Graphics Technology
Website:
Contact: