Central to Executing Process Optimization.

CCSU's BS in Manufacturing Management prepares students to successfully confront the new competitive challenges of a global market, reduced product life cycles and customer demand for diverse, high-quality products.

Students participate in "hands-on" manufacturing process courses and learn business strategies used by manufacturers to improve their competitive advantage. Students graduate ready to assume leadership roles in the management of advanced manufacturing technology.
Program Features
Course schedules designed for working professionals and full-time students
Focus on development of theoretical knowledge and project-based skills
Laboratory component/activities included in many courses with the latest methods in:

Lean/Six Sigma
Environment, Health and Safety
Supply Chain and Logistics
Production Leadership
CAD/CAM
Advanced Manufacturing

Internships provide academic credit and practical experience
Certification available through ATMAE
Financial aid and scholarships available
Free on-campus child care available
Program Options
Provides directed electives in automated manufacturing and Industry 4.0 topics.
Provides directed electives in EH&S management topics, including accident investigation, loss control, industrial hygiene, safety training methods, and hazardous material management.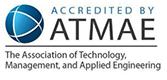 The Manufacturing Management program is accredited by the Association of Technology, Management, and Applied Engineering (ATMAE).