Central to Generating Power at Your Fingertips.
CCSU's BS in Electronics Technology is an applications-oriented program that includes studies in applied mathematics and science, electronics principles, techniques, materials, and devices.
Core courses include basic computer applications, electrical principles, analog and digital circuits, electromechanical converters, electronic communication, and microprocessor design and programming. Additional elective hours provide the flexibility to study topics of interest that also increase employment opportunities. Topics include robotics, computer programming, computer networking, and automated manufacturing systems.
Program Features
Emphasizes hands-on experiential learning supported by new cutting-edge facilities and laboratories in electrical and electronic fields.
Format for most classes is lecture and lab taught by the same professor, not by a graduate assistant
Students take co-ops or internships that provide work experience and often secure employment before graduation
Program supported by quality curriculum with lowest in-state tuition of Connecticut's four-year institutions
Financial aid and scholarships available
Free on-campus child care available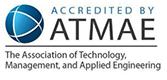 The Electronics Technology program is accredited by the Association of Technology, Management, and Applied Engineering (ATMAE).