Central to Transforming Care.
CCSU's RN to BSN is the perfect place for Registered Nurses wanting to complete their BS in Nursing online. With a faculty made up of RNs active in clinical practice, students are taught by nursing professionals experienced in the challenging and evolving healthcare field.
Depending on transfer credit status, the program can be completed in one year. However, CCSU's Nursing Department understands that students face many challenges in their professional and personal lives and work with each student to offer flexible options to help you meet your goals and objectives.
Program Features
Starts every January and August
120-credit program with transfer credits maximized
Applicants in their final year of a diploma or associate degree may be accepted on a provisional basis (while awaiting NCLEX results)
Attend full- or part-time
100% online with access to on-campus faculty and resources if needed
Community immersion experience
Access to state-of-the-art simulation suites and laboratory
Free one-year subscription to Grammarly
Free on-campus childcare
Financial aid and scholarships available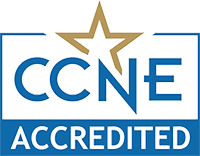 CCSU nursing programs are accredited by the Commission on Collegiate Nursing Education (CCNE), 655 K Street, NW, Suite 750, Washington, DC 20001, 202.887.6791.


CCSU's Nursing Department is a member of the American Association of Colleges of Nursing (AACN).
I was looking for a University that besides being flexible, accredited, and affordable, would also provide an opportunity to visit in person in case I needed assistance. The first time I went to CCSU, I met many wonderful staff members, and I was able to get a scholarship, loans, and CCSU accepted all the credits which I accumulated in this long journey. I am really happy with my decision on joining the CCSU family.

- Current Student

The RN-BSN program at CCSU has had a solid reputation in the State of Connecticut and has graduated hundreds of students since its launch over 40 years ago.

In addition to providing an opportunity for professional and personal growth, as well as a pathway for graduate studies, research indicates that nursing education level is a factor in patient safety and quality of care.
After speaking with other nurses who are taking online courses at other schools, I am glad I chose CCSU. I have been challenged beyond my expectations. I have learned a great deal and every instructor has been supportive and amazing. The feedback has also been very important to me, and I feel it has enabled me to improve along the way.

- Current Student
Ability to integrate theories and concepts into nursing practice
Tools to apply leadership concepts, skills, and decision making I the provision of high-quality nursing care, healthcare team coordination, and the oversight and accountability for care delivery
Skills to critically evaluate evidence-based research in collaboration with other members of the healthcare team to improve patient outcomes
Ability to demonstrate skills in using patient care technologies, information systems, and communication devices that support safe nursing practice
Capability to advocate for a variety of sociopolitical issues affecting health care through participation in legislative and political forums
Knowledge to incorporate inter- and intraprofessional communication and collaborative skills into the delivery of evidence-based, culturally sensitive patient-centered care.
Tools to provide innovative interventions to promote health and prevent illness in vulnerable populations
Skills to practice from a a caring, professional nursing perspective by incorporating the values of social justice, diversity, and global awareness
Ability to integrate knowledge, skills, and attitudes through use of the nursing process to provide patient-centered care to patients across the