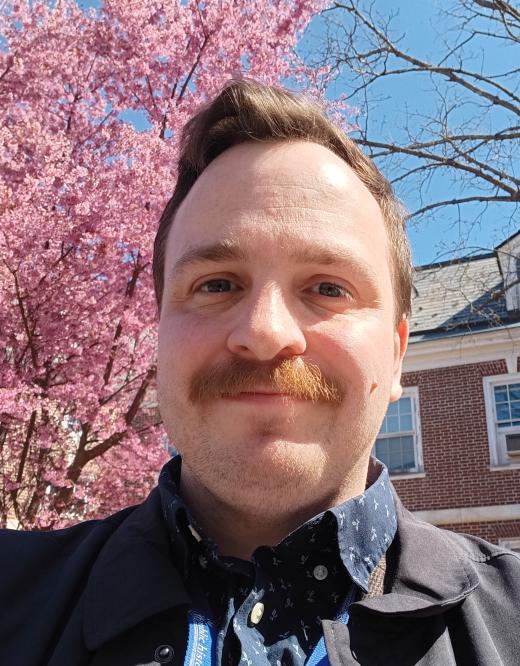 Assistant Professor
History
International Studies: Middle East Studies, BA
Office
Ebenezer D. Bassett Hall
216-05
Biography
Tyler Kynn (He/They) is an Assistant Professor of History at Central Connecticut State University. Tyler's research explores the hajj in the early modern world, examining both narrative and archival material related to questions of Ottoman sovereignty and power in the Hijaz. Their current book project is entitled A Season for Empire: The Hajj in the Early Modern World. Tyler is also one of the co-creators of The Hajj Trail , a classroom tool and digital simulation of the seventeenth-century hajj journey coded via the Twine platform. Tyler's research interests includes the history of the Islamic World, the Ottoman Empire, early modern empires, sovereignty, mobility, identity formation, gender and power, and the intersection of digital history and gaming.
Tyler Kynn is also the campus advisor for the Critical Language Scholarship Program through the US State Department For More Info Click Here 
Education
Central European University
University of Minnesota: Twin Cities
Areas of Expertise
Ottoman Empire, Islamic World, Histories of Mobility, Early Modern World, Digital History, Historical Game Studies
Publications, Research & Presentations
Current Book Project:
A Season for Empire: The Hajj in the Early Modern World [Forthcoming]
Articles: 
"Pirates and Pilgrims: The Plunder of the Ganj-i Sawai, the Hajj, and a Mughal Captain's Perspective," Journal of the Economic and Social History of the Orient (JEHSO). (March, 2021)
"Digital Storytelling with Twine and Teaching Ottoman History: The Hajj Trail," in the Research Notes portion of the Journal of the Ottoman and Turkish Studies Association (JOTSA) special issue on 'Digital Ottoman Studies'
Book Reviews:
Book review on Lale Can's Spiritual Subjects in The Middle Ground Journal: World History and Global Studies. (Fall 2022).
Selected Invited Talks:
Ludwig Maximilian University of Munich, "Along the Virtual Road to Mecca: Imagining the Ottoman World in Digital Spaces," (May 31, 2023).
Oxford University, Indian Ocean in the Age of Empire Speaker Series, (Feb. 14, 2023), "The Seasonality of Ottoman Imperial Power: Mecca, Medina, and the Sultan's Purse," Online.
Stanford University, Center for Spatial and Textual Analysis, (May 17, 2022), "On the Road to Mecca: Simulating the Ottoman Hajj", at CESTA Seminar Series.
Harvard University, the Center for Middle Eastern Studies (May 3rd 2019), "Between Empire and Sacred Space: Mecca as a Global Space in the Early Modern World," at the Mecca: The Lived City Symposium.
In the Media.
Ottoman History Podcast Interview, March 2023, "On the Hajj Trail," Link to Podcast Episode
The Economist: Books and Arts Section, "Gaming the haj, from the comfort of home" [The Economist, 7/7/2022] - Interviewed for the Hajj Trail project Link to Economist Article
Memberships & Affiliations
Middle East Studies Association
Courses Taught
Sample Courses Taught:
HIST 100: Piracy and World History
HIST 100: Sweet Addictions: Coffee, Tea, and Sugar in World History
HIST 100: Animals and World History
HIST 291: The Modern Middle East
HIST 295: The Ottomans: Islam and Empire
HIST 395: Gaming and History
HIST 402: Muslims in Europe: Conquest, Community, and Captivity
HIST 511: Digital History: The History of Coffee Through Digital Methods