What is First-Year Experience?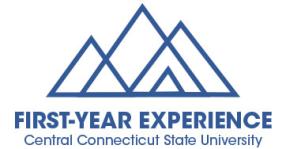 First-Year Experience is a year long program of courses, events, and exposure to campus resources that support first-year students through their transition and introductory year.
First-Year Courses
First-Year Courses are designed to provide first-year students with the skills to be successful throughout their journey at CCSU. The core curriculum supports students in developing the following: understanding the academic options at CCSU, connection to the CCSU community, self-advocacy, and critical & creative thinking, as well as provide information, technology, and resource literacy. The curriculum prepares them for success in their personal, academic, and professional lives at CCSU and beyond.
FYE Peer Leaders
Peer Leaders are students selected from across campus to work with faculty and staff in FYE classroom. Leaders work collaboratively with instructors to serve as a resource to first-year students in their transition to CCSU.