Biographical appreciation by Anthony Roy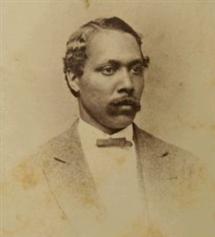 Ebenezer Don Carlos Bassett, the progeny of a politically and socially active Connecticut family and of African slave, mulatto, and Native American heritage, enrolled in Connecticut's State Normal School in 1852. In many ways he represented the state's complex social environment.
Born free on October 16, 1833, Bassett came of age as slavery was gradually dismantled throughout the state until it was finally abolished in 1848. His grandfather and father were both elected "Negro Governors" in 1815 and 1840, respectively. Despite the social barriers of the time, the Bassett household buzzed with learning and ambition.
Ebenezer Bassett was an exceptional scholar who excelled in mathematics and communicated with clarity and precision. As a young man, he worked in an office in his hometown; made contributions to his local newspaper, The Derby Journal; and attended Wilbraham Academy in Massachusetts after completing his initial schooling in Derby.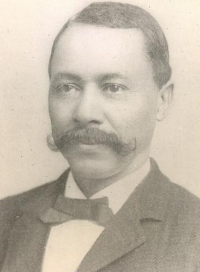 Ebenezer Bassett honed his genius at the Normal School and went on to employ his abilities as an educator, activist, and, in 1869, United States' Minister Resident to Haiti, the first African American to attain a diplomatic appointment. Writing to Bassett in April 1869, Frederick Douglass remarked that Bassett's accomplishments form an "important point in the history of our progress and upward tendency."
When Bassett enrolled in the State Normal School, the concept of a school for teachers was in its infancy in Connecticut. The state established the school in New Britain after many years of dedicated effort by Henry Barnard, the school's first Principal, and with the monetary contributions of New Britain's community members. The Normal School students practiced their craft and took academic classes designed to increase their content knowledge and classroom competency. Bassett excelled, completing the program in the shortest timed allowed, one year.
Perhaps even more remarkable than his completing the program in one year was the absence of discrimination toward the school's first black student. None of the earliest records distinguished Bassett's identity or confirmed protest against Bassett's enrollment as a black student teacher in a school designed to instruct New Britain's public school students. As a graduation requirement Bassett read his final paper, "The True Teacher." Although there are no known copies of this paper, it is certain that Bassett exemplified the institution's values. How else could he have met the expectations so quickly? After graduation Bassett maintained active correspondence with the alumni association until his death in 1908. Ambassador Ebenezer Don Carlos Bassett, a dedicated and accomplished alumnus, is an important member of our school's heritage and especially deserves recognition on this occasion, the 181st anniversary of his birth.
Video Introductions to Bassett
Christopher Teal (Consul General to Mexico) presents Bassett's story
Bassett's Role Among African Americans Involved in Diplomacy
Petitioning the Town of Derby to name a street after Bassett
Overview of a science lecture on carbon given by Bassett to students of the Institute for Colored Youth.(Includes MP3 audio file.)
Click/tap here
Timeline of Accomplishments
1833 Born on October 16 in Litchfield County Connecticut.
---
1840 Mr. Bassett grew up in Derby Connecticut. He began his formal education at the Birmingham Academy.
---
1850's Mr. Bassett attended school at the prestigious Wesleyen Academy in Wilbraham, Massachusetts (presently the Wilbraham and Monson Academy).
---
1852 Mr. Bassett entered the junior call at the New Britain Normal School (presently Central Connecticut State University) in New Britain, Connecticut. Mr. Bassett was accepted as the first African American to attend school at the university. On September 29, 1853, Mr. Bassett graduated with honors and achieved the status as the first African American to graduate from the institution.
---
1840-1855 As a young adult Mr. Bassett was exposed to many pre-Civil war activists that helped to galvanize the abolitionist movement in Connecticut. His education and experiences exposed him to Black and white activities who were working to advance the rights, freedoms, and opportunities of African American people in America.
Hired as a principle/teacher at the Whiting School (for Colored Children) in New Haven, Connecticut.
---
1854-1855 Attended classes in advanced mathematics, literature, and the classics at Yale University in New Haven, Connecticut.
Active member of the Convention of Colored Men of the State of Connecticut.
---
1855 Mr. Bassett married Ms. Elizabeth Park of New Haven. The couple had eight children. The union lasted 53 years when Mr. Bassett joined his wife who had preceded him in death. While in New Haven, Mr. Bassett became active as a speaker and civil rights leader. He joined the efforts of many other prominent figures like Rev. J.W. Pennington, John Brown, and Rev. Amos Beman who were active agents for social change in the anti-slavery movement. Mr. Bassett also used his voice and position to advocate for the right for African American men to serve the nation as soldiers in the Civil War.
During his civil rights work, in New Haven, Mr. Bassett met Fredrick Douglas and formed a lifelong friendship with him. The two men joined their efforts to advance the condition of African American people.
---
1856 Mr. Bassett was hired as the second principal appointed to the Institute for Colored Youth in Philadelphia, Pennsylvania (presently Cheyney University). Cheyney is the oldest Historically Black University in America. Mr. Bassett was one of the longest serving administrators at the institution. He remained in his position for 14 years when he was called to duty by the President of the United States.
---
1869 Mr. Bassett was unanimously selected as the Minister Resident to Haiti (a title that would eventually become U.S. Ambassador). He gained the support of many prominent leaders who recommended and advocated for his appointment. President Ulysses S. Grant selected him for the position, which made him the first and highest appointed African American diplomat in the United States government. Mr. Bassett remained active in the post until 1877 when he resigned at the conclusion of President Grant's term as president.
---
1879 Mr. Bassett was appointed by the President of Haiti as the Haitian Consul General in New York.
---
1883 Ambassador Bassett appeared on a publication entitled, "Distinguished Colored Men", with other prominent African American leaders (including Rev. Richard Allen, P.B. S. Pinchback, Fredrick Douglas and others).
---
1886 Ambassador Bassett continued to reside in New Haven and maintained an office in Bowling Green, New York, at the Haitian Consulate.
---
1888 Ambassador Bassett served as the secretary to Mr. Fredrick Douglas when he was appointed the ambassador to Haiti in 1888. Ambassador Bassett remained in this position until 1891.
---
1891 Ambassador Bassett returned to Connecticut some time in 1891.
---
1898 The President of Haiti appointed Ambassador Bassett as Vice Consul General. He continued in this position until his death in 1908.
---
1908 Ambassador Ebenezer Don Carlos Bassett, first U.S. African American Diplomat died on November 13, 1908, in Brooklyn, New York. Ambassador Bassett and his family are buried in the Grove Street Cemetery in New Haven, Connecticut.