The on-line application for the Connecticut General Assembly legislative internship is now open for the 2023 legislative session (spring semester). Many CCSU economics students have successfully pursued careers in state and local government. The deadline to apply for this internship is November 1, 2022. Interested students should contact CCSU's CGA Internship Program Liaison, Prof. Robin Smith at smithr@ccsu.edu. Students can find the application and more information at: https://cga.ct.gov/isc/internship.asp
---
The AEA Summer Program is an amazing opportunity for students interested in doctoral programs in economics. The Program is a two-month intensive study of microeconomics, math, econometrics, research methods, and other technical skills necessary for graduate training. Participants will work with prominent faculty in the field of economics, and visit the major sites in Washington, DC. Moreover, participants can earn up to twelve credits towards their degree. The 2023 AEA Summer Program will be held May 25 – July 23 at Howard University. Scholarships and housing are available. CCSU economics students have been accepted to the AEA Summer Program. Interested students are encouraged to speak with a faculty member about the application process.
For more information visit: https://www.aeaweb.org/about-aea/committees/aeasp
---
We have some amazing professors in the CCSU Economics Department. Congratulations to Associate Professors Carolyne Soper and Samantha Schenck for being on the Honor Roll of the Excellence in Teaching Award!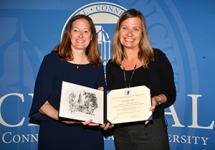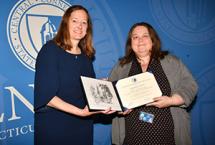 ---
Professor Samantha Schenck recently joined others on the Connecticut Public Broadcasting Network to talk about the infant formula shortage.
---
The Economics Department is pleased to award this year's Departmental Honors to Malachi Moore! We are honoring Malachi with this award for the exceptional analytical, communication, and writing skills that he consistently demonstrated during his time in the economics program. When asked of their impressions of Malachi, the economics faculty frequently remarked on his excellent class presentations and research papers in our specialty courses. Malachi consistently chose interesting topics, was articulate, and always well-organized. The faculty also praised Malachi for his dedication and engagement during the pivot to online learning in 2020-21. After graduation this spring, Malachi will enter the MS in Supply Chain and Logistics Management Program at CCSU. We have no doubt that the skills that he continues to develop will position him for great success after CCSU. We can't wait to see the accomplishments and opportunities that await him then. Congratulations, Malachi!
---
We are beyond proud of recent economics graduate Tyshaun James, who recently signed a free agent contract with the Atlanta Falcons! Congratulations, Tyshaun!
---
Congratulations to Dr. Jared Ragusett, whose manuscript (co-authored with Dr. Michael Meeropol) was accepted for presentation at Hofstra University's Conference on the Presidency of Barack Obama. Hofstra has hosted similar conferences on the administrations of each US President since Franklin Delano Roosevelt. Scholars, journalists, policy makers, and administration officials will attend the conference to discuss the campaign, leadership, policy agenda, and legacy of the Obama Presidency. Congratulations!
---
The CCSU Economics Department was well represented at the recent Western Social Science Association Conference in Denver, Colorado. Drs. Jared Ragusett, Alfredo Rosete, Samantha Schenck, and Carolyne Soper all presented their on-going research at the annual meeting. The faculty were particularly excited about returning to an in-person conference after over two years, and it did not disappoint. Well done!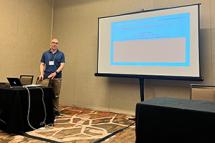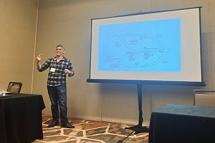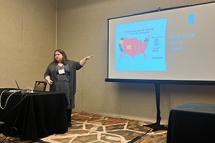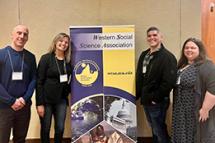 ---
Congratulations to Ayesha Choudhery for being admitted with full scholarship to the American Economic Association Summer School! The Summer School is an intensive program for advanced undergraduates who would like to pursue further studies in economics. What an accomplishment!
---
Despite the challenges related to the pandemic, several economics majors completed successful internships during the Spring 2022 semester. Pictured from left to right are: Dan Baribault, who interned with the Governor's Office of the State of Connecticut; Rahil Chaluwala, who interned with Pfizer; and Andy Xaysittiphone, who interned with BestLogic Staffing. Great job, guys!