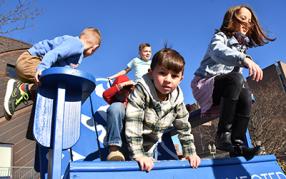 To register a child between the ages of 3-12, the student-parent/guardian must be a current CCSU student, faculty, or staff member. All registered children must be potty-trained. Registration includes the completion and submission of all documents including:
Child Enrollment
Emergency Medical Care Authorization Form
Parent/Guardian Information Packet & Behavior Management Policy Agreement
Authorized Permission for Alternate & Emergency Pick Up
Early Childhood Health Assessment Record, (3-5 years old) or Health Assessment Record, (6-12 years old)
Consent to attend special programs on the CCSU campus (optional)
When all required documents have been submitted, a confirmation email will be sent within 48 hours of receipt of the completed enrollment documents. The email will confirm your completed registration. The email will also include the Completed Enrollment Confirmation Packet providing important information to prepare you and your child for your first visit, driving and parking directions, and instructions on how to reserve a space for your child. There is a 4-hour limit per day. Space is limited and all children must have a confirmed reservation prior to attending.
*Each child entering the center must have a completed registration including updated physical form signed and dated by his/her pediatrician, including current immunization documentation. Physical forms must be updated yearly.
To accommodate unexpected or emergency situations, please contact the Center directly.
We respectfully request 24 hours-notice for cancellations to give others opportunity to fill the spot. Failure to provide 24 hours-notice will put reservation privileges at risk.
Drop-In Center Enrollment Form
Drop-In Center Parent Info Packet
Early Childhood Health Assessment