Banking for CCSU Alumni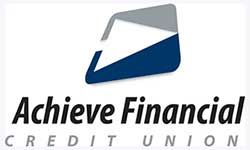 Achieve Financial Credit Union is proud to be a long-time partner of CCSU. We are a not-for-profit, financial institution that has been dedicated to serving the banking needs of CCSU students, staff, alumni and their families since 1934.
CCSU Alumni can open an account with the Credit Union and take advantage of low rate Auto Loans, Home Equities, Refinances, meet with our Financial Advisor, open an IRA and more!
To start banking with Achieve Financial, simply open a savings account with as little as $5.00. Open the account online today at AchieveFinancialCU.com or at one of our locations.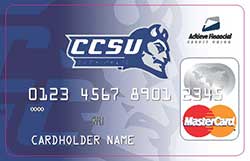 Make a Purchase and Make a Difference
Achieve Financial Credit Union is Proud to Give Back to the University. When you open an Achieve Checking account, you can request the CCSU Achieve Debit Card. Every time you make a purchase of $10 or more with this debit card, a donation will be made to the University Grant Fund to benefit students. Visit us online at AchieveFinancialCU.com or call us at 860.828.2790.
*Minimum $5.00 required into a savings account to establish credit union membership. The CO-OP & SUM networks offer over 30,000 ATMs nationwide where Achieve members can find ATMs where they won't pay a surcharge fee. Federally Insured by NCUA EOL.