Department Overview
The Accounting Department at CCSU prepares its graduates for professional careers in public, corporate, and governmental accounting, and for advanced graduate study in accounting. The undergraduate program provides the background necessary in areas of accounting such as financial reporting, auditing, taxation, cost management, budgeting, accounting information systems, and management advisory services.
Accounting is often considered to be the "language of business." Managers of companies use accounting information to help them with planning, controlling, and decision-making activities associated with their organizations. The accounting programs within the Accounting Department of the School of Business at Central Connecticut State University prepares its graduates for challenging positions in the business world. Alumni of our programs currently have industry positions such as auditors in public accounting firms, internal auditors in insurance companies, management accountants in manufacturing firms, accountants in both State and Federal government agencies (including positions as special agents for the FBI), and management consultants in consulting firms.

The CCSU School of Business is an accredited member of AACSB International - the Association to Advance Collegiate Schools of Business.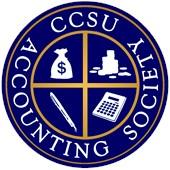 The mission of the Accounting Society at CCSU is to equip our students to make a successful transition to accounting professionals.