Central to Optimizing for Customer Advantage.
CCSU's BS in Technology Management prepares students to work in a variety of technology-oriented supervisory, middle management, and leadership positions. Coursework reflects the increasing industry demand for professionals with a mastery of industrial processes, applied technologies, and managerial skills.
Tools students develop include project management, quality control, and marketing, as well as technical writing, best environmental practices, and industrial accounting. Students may elect to pursue a specialty in Technology Management customized to the student's professional interests in consultation with an academic advisor.
Learn the latest methods in:
Quality Management
Environment, Health and Safety
Supply Chain and Logistics
Production Management
Program Features
Attend full- or part-time
Classes on-campus and in hybrid format
Course schedules designed for working professionals and full-time students
Prepare for management positions in a technology-related field of study
Access to state-of-the-art laboratories and technology in the new Applied Innovation Hub
Internships provide academic credit and practical experience
Graduates acquire leadership skills for future success
Cap a technology associates degree or any technical courses with leadership and management courses
Financial aid and scholarships available
Free on-campus child care available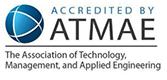 The Technology Management program is accredited by the Association of Technology, Management, and Applied Engineering (ATMAE).