Central to Understanding Digital Systems.
CCSU's BS in Computer Engineering Technology offers students in-depth knowledge and skills with computer related systems and devices based on the foundation of physics and applied mathematics, and focuses on hardware and software skills for design, implementation, integration, and support of systems involving microprocessors, computers, and networks.
Graduates are prepared for positions in computer programming, system software projects, digital logic design, computer interfacing, digital systems design and trouble-shooting, circuit design and trouble-shooting, or as computer and network administrators.
Program Features
Program emphasizes analysis, design, and application
Hands-on experiential learning
All-new cutting-edge facilities and electronics laboratories
Each session of most classes is in the format of Lecture + Lab, both of which are taught by the same professor, not by a graduate assistant
Strong support from industries in the New England region
Quality curriculum with much lower tuition compared to the other public and private universities in the region
Financial aid and scholarships available
Free on-campus child care available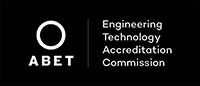 The Computer Engineering Technology program is accredited by the Engineering Technology Accreditation Commission (ETAC) of ABET.
Ability to apply knowledge, techniques, skills and modern tools of mathematics, science, engineering, and technology to solve broadly-defined engineering problems appropriate to the discipline
Ability to design systems, components, or processes meeting specified needs for broadly-defined engineering problems appropriate to the discipline.
Ability to apply written, oral, and graphical communication in broadly defined technical and non-technical environments; and an ability to identify and use appropriate technical literature.
Ability to conduct standard tests, measurements, and experiments and to analyze and interpret the results to improve processes
Ability to function effectively as a member as well as a leader on technical teams.
In our department, you will always find a program that matches your background and interest. Our systematically organized engineering, engineering technology, and technology programs in closely related discipline fields are designed with flexibility for the benefits of students.

– Dr. Shuju Wu, Department Chair

According to the U.S. Bureau of Labor Statistics, the job outlook for 2021- 2031 for Computer Engineering, Quality Assurance, and Testers is 3% - 25% for related occupations.

Source:

bls.gov