Koproski Lecture in Polish Business & Economy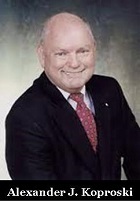 Koproski family members have been active in the Polish American Community for many years. The family came to the United States from Poland around 1895. Alexander J. Koproski, son of Julius and Victoria Markiewicz Koproski was born in 1903. He was one of the first Polish American policemen in the City of Stamford. He and his wife, Gladys Kryger Koproski had two children, Joan and Alexander. Alexander R. Koproski married Particia Velliquette Koproski and they have been in the real estate business for over 50 years.
In 1989, Al and Pat were an integral part of the founding of the American Center of Polish Culture in Washington, D.C. They serve as directors and fund raisers for the only Polish American organization in the nation's Capital.
The Koproskis are members of many Polish American organizations and promote the positive ideals of Polonia. In 1992, they formed the Koproski Family Foundation to help promote and preserve Polish culture. They encouraged other individuals to establish non-profit foundations to promote Polonia. Alexander Koproski is a trustee of the Kosciuszko Foundation in NYC.
The Koproski Family Foundation endowed a lecture on Polish business and economy as part of the activities of the Stanislaus A. Blejwas Endowed Chair in Polish and Polish American Studies at Central Connecticut State University. Mr. Koproski also serves on the university's Polish Studies Advisory Committee.
The Koproski lecture series was inaugurated on December 2, 1999 by Dr. Susanne S. Lotarski, Director of the commerce Department's Office of Eastern Europe, Russia and Independent States.