40th Anniversary of the Polish Studies Program

Polish Studies Program at CCSU celebrated its 40th anniversary in 2014 with lectures, exhibits, concerts and movie showings. The culminating event was the gala on October 19 with the Honorable Ryszard Schnepf, Poland's Ambass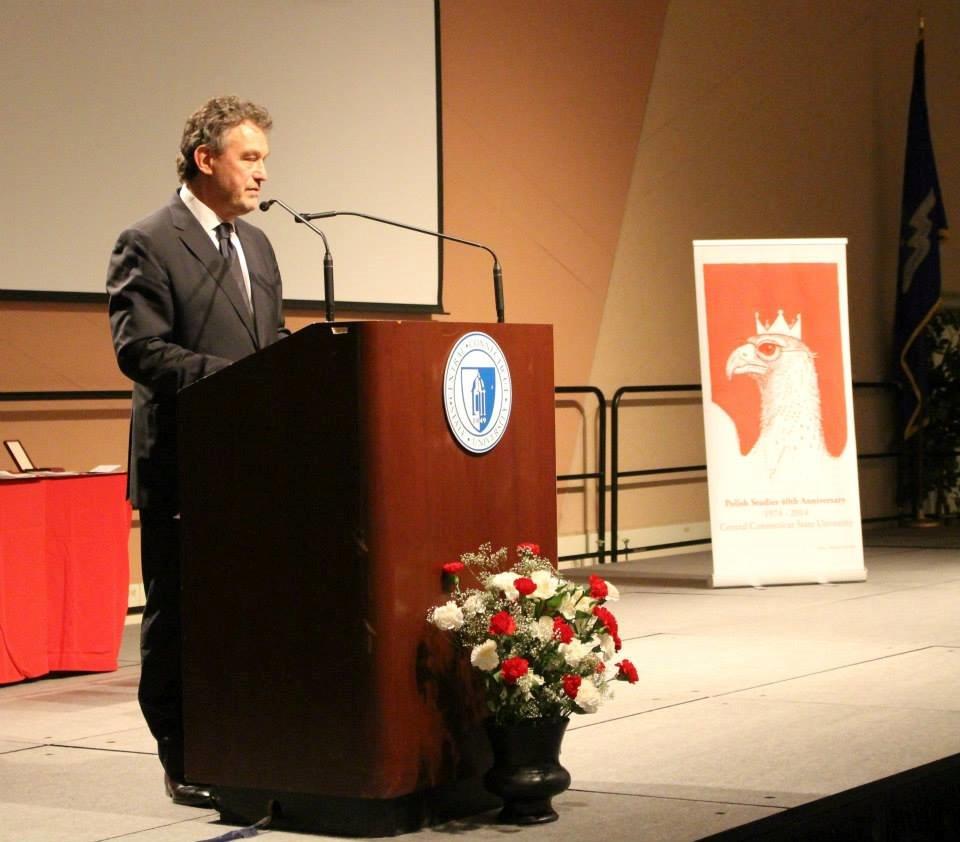 ador to the U.S., who gave the keynote address. The gala was a commemoration for all those who helped establish the program and those who have supported the advancement of Polish and Polish-American history and culture.

A number of awards were presented during the event from the Republic of Poland and from Stanislaus A. Blejwas Endowed Chair in Polish and Polish American Studies.

The Amicus Poloniae (Friend of Poland) Award was established by the Ambassador of the Republic of Poland in Washington D.C. It has been awarded annually to United States citizens or organizations for their contributions toward the development of Polish-American relations and for the promotion of Poland in America. CCSU's Polish Studies Program was presented with the Amicus Poloniae award for its noteworthy achievements in support of Polish heritage, Polish American relations, and a significant future for both.

The Bene Merito award is an honorary distinction conferred by the Foreign Minister of Poland upon the citizens of the Republic of Poland and upon foreign nationals in recognition of their merits to promote Poland abroad. Dr. Michael A. Peszke, Dr. Alex and Mrs. Regina Rudewicz and Nicholas Pettinico, Jr. received the Bene Merito Award for their roles in support of Polish Studies over the years.

The Polish Medal of Merit is presented by the Blejwas Endowed Chair to individuals for their longtime meritorious service, leadership, and contributions to the Polish and Polish American communities. Receiving the Polish Medal of Merit were Alexander and Patricia Koproski, Dr. John Micgiel; Senator Christopher Murphy and Carolyn Topor.
Awards
Amicus Poloniae Award

The Polish Studies Program was established in 1974 and since that time has served thousands of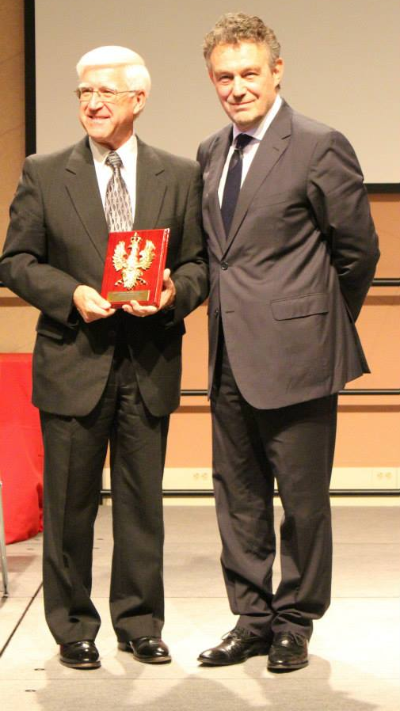 students at Central Connecticut State University and in the broader community. Owing to the generosity of the state's Polish Americans and their friends and a matching grant of $600,000 from the State of Connecticut, an Endowed Chair in Polish and Polish American Studies was inaugurated in 1997. The first Chair was held by and named in honor of the late Dr. Stanislaus A. Blejwas and, since 2002, is now held by Dr. Mieczyslaw B. Biskupski. The Program offers courses in history, politics, culture, literature, and language and it sponsors lectures, cultural events, exhibitions, and concerts, most of which have been funded by generous benefactors who believed in its mission. The Polish Studies Program supports the Polish Heritage Book Collection and the Connecticut Polish American Archives that illustrate the establishment of Polish communities, organizations, parishes, and societies in Connecticut and the United States. It also hosts the conference of the Polish Genealogical Society of Connecticut and the Northeast, Inc.

Bene Merito Awards

Michael Alfred Peszke, the son of a military hero of Poland, born in Deblin, has had a distinguished medical career. In his chosen field of psychiatry. he has published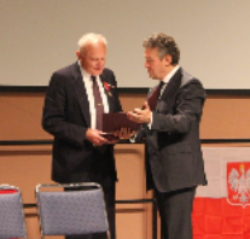 widely and held a number of prestigious positions including a professorship at the University of Connecticut. After his retirement he turned to his real love, Poland and World War II, and produced a stunning four books on the subject dealing with military, diplomatic, and political history. He has supplemented these publications with a host of important articles. His number of publications far outstrips many life-long historians. He was one of the founding members of the Polish Studies Program at Central Connecticut State University and has been a mainstay of the program as adviser and worker ever since. His dedication and energy have been evident in numerous projects connected to the CCSU Polish Studies Program, including lectures, programs for high school students, and his leadership in establishing the Kosciuszko Squadron Exhibit at the New England Air Museum. Dr. Peszke has also served with other Polish organizations, including the Polish Institute of Arts and Sciences. More importantly, he has been a dedicated supporter of the championship of Poland among the American people. He is a friend of all those of Polish ancestry and their boast.

Alex and Regina Rudewicz are long-time friends and among the most generous benefactors of the Polish Studies Program at Central Connecticut State University where Dr. Rudewicz serves on the Polish Studies Advisory Committee. Dr. Rudewicz served during the Korea War on the heavy cruiser USS Columbus. He holds a B.S. from the University of Hartford and has a Doctorate in Dental Surgery from the Baltimore College of Dental Surgery. Dr. Rudewicz is an active member of many professional, community, and veteran-related organizations including the American and Connecticut Dental Associations, the Polish Cultural Club of Greater Hartford, and the Polish Legion of American Veterans. Dr. Rudewicz served on the Board of the Polish National Home in Hartford. After his retirement from dentistry, the couple moved permanently to Florida.

Regina is the daughter of Frank and Mary Tyszka. She graduated from Ss. Cyril & Methodius School, Mt. St. Joseph Academy, and the University of Hartford. Mrs. Rudewicz is also active in community groups, including the Girl Scouts, Simsbury Woman's Club, the Polish Junior League, and is a past President of the Polish Cultural Club of Greater Hartford.

Married since 1962, Dr. & Mrs. Rudewicz created the Rudewicz Archives Fund in 1987 which supports the Connecticut Polish and Polish American Archives at Central Connecticut State University. The Rudewicz Polish Music Series was endowed in 1996. The inaugural concert in 2000 featured Andrzej Anweiler an internationally acclaimed composer and pianist who performed music of Rachmaninoff, Chopin, Bacewicz, Szymanowski, and Paderewski. In addition to the archives fund and music series, Dr. & Mrs. Rudewicz also funded the Polish Medal of Merit for distinguished service to Poland.

Nicholas Pettinico has been associated with the Polish Studies Program since its inception forty years
ago and continues to be the essential link between the program and Central Connecticut State University. Beyond his role as assistant treasurer of the CCSU Foundation, this skilled advisor has guided many dimensions of the program's success: community affairs, special events, lectures, finances, scholarships, fund raising, protocol, and university relations. His consistent leadership has been recognized by Poles and non-Poles who have benefited from his professional approach to each assignment. A man of grace and dignity, he accepted stewardship of the Polish Studies Program and has become a dedicated program advocate and, always, a guardian of its mission and quality. In spite of the frequent praise of and appreciation for his efforts during the past four decades, he remains profoundly modest and avoids the worthy recognition he deserves. This valued colleague and dedicated public servant is a true friend of Poland.
Polish Medal of Merit
Alexander and Patricia Koproski
They are valued residents of Stamford, Connecticut. Their community leadership and dedication to building a better Stamford is exemplary. As active members in the Stamford Historical Society for many years, they donated to its archives and located essential artifacts for the exhibits. The Stamford Historical Society honored them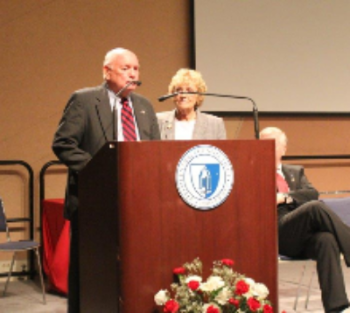 for their dedication to preserving local history. He is a businessman, activist, philanthropist and real estate broker, who loves baseball and all things Polish. He is National Vice President of the Polish National Youth Baseball Foundation which has sent huge shipments of over 8,000 pounds of baseball equipment to Poland, where new baseball equipment is not available.
They have devoted years of service to The American Center of Polish Culture in Washington, D.C. It opened in 1992 and became the first and only home for Polonia in the nation's capital. In 2010, the Center was renamed the National Polish Center and became a part of the Kosciuszko Foundation.
Dr. John Micgiel
The Holyoke, MA native is president of the Kosciuszko Foundation and an adjunct professor of International and Public Affairs at Columbia University, wh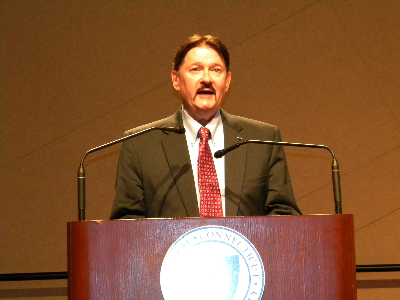 ere he helped establish the Chair of Polish Studies. He has directed several institutes and centers and is on the faculty of Warsaw University's Eastern Studies Center and the Estonian School of Diplomacy in Tallinn. A man of great intellect, boundless compassion, extraordinary leadership, and steadfast patriotism, he has been recognized by the Governments of Poland and Romania for his work on behalf of educational exchange and cooperation, and has been the recipient of numerous fellowships and scholarships awarded by various institutions including the Kosciuszko Foundation.
Senator Christopher S. Murphy
He is the junior United States Senator for Connecticut. Elected in 2012, he serves on the Health, Education, Labor, and Pensions (HELP) Committee, the Foreign Relations Committee, and the Joint Economic Committee. Prior to his election to the U.S. Senate, he served Connecticut's Fifth Congressional District for three terms in the U.S. House of Representatives. Before his service in the U.S. Congress, he served for eight years in the Connecticut General Assembly, where he spent four years representing the 81st House District, and then spent four years representing the 16th Senatorial District.
An American with a proud Polish heritage, he grew up in Wethersfield, Connecticut, and attended Williams College in Massachusetts, graduating with honors and a double major in history and political science. In 2002, he graduated from UConn Law School. He is co-chair of the U.S. Senate Poland Caucus, Chairman of the Senate Foreign Relations Committee's Subcommittee on Europe and has joined Ambassador Ryszard Schnepf in a number of important efforts connected to Poland and Polish-American relations. Senator Murphy's responsibilities in Washington would not allow him to join us tonight, but he extends his regards in a letter which reads, "I thank CCSU for this award, and commend the University for its continuous leadership in honoring the U.S.-Polish special relationship and our nation's vibrant Polish American community through academic excellence and community engagement."
Carolyn Topor
A resident of South Hadley, MA, she is a founding member and, since 1996, has served as president of t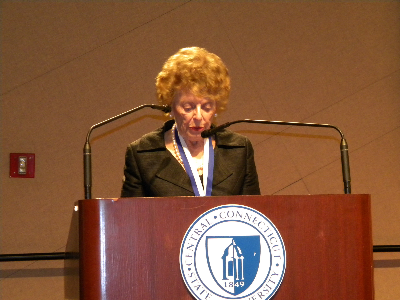 he New England Chapter of the Kosciuszko Foundation. A key volunteer and supporter of the arts, she also is president of the Polish Center of Discovery and Learning at Elms College in Chicopee, Massachusetts. In 2008, she was presented with the Knight's Cross of the Order of Merit of the Republic of Poland, the highest civilian honor conferred on foreigners and Polish residents abroad for merit rendered to the country. A frequent honoree for her devoted service, she truly "lives" the mission of the New England Chapter of the Kosciuszko Foundation: to foster relations and understanding between the United States and Poland and to fincrease American understanding of Polish culture and history through cultural events, scholarships, and educational grants.