The Legacy of John Lewis
John Lewis led a life of service in pursuit of justice. He was a descendent of African slaves. Born into a sharecropper family in Alabama in 1940, he realized from a young age that violence and inequality permeated society. He wrote shortly before his death that:
"Emmet Till was my George Floyd. He was my Rayshard Brooks, Sandra Bland, and Breonna Taylor. He was 14 when he was killed, and I was only 15 years old at the time. I will never ever forget the moment when it became so clear that he could easily have been me."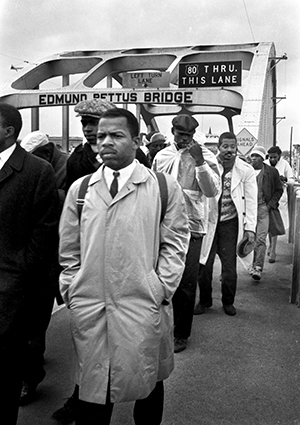 Not content to simply be aware of injustice, he searched for ways to make others aware of it and to work to overcome it. He was one of the original Freedom Riders who rode buses to highlight the segregated travel laws in the South. He helped to found and became a leader of the Student Nonviolent Coordinating Committee. One of the organizers of the March on Washington in 1963, he was its last surviving speaker. He organized, marched, and spoke up against racial and economic injustice at every turn, and was beaten and bloodied often for his efforts, by white mobs and police officers alike.
He will forever be etched in the Civil Rights Movement for all of these efforts, but especially for his role in the voting rights march of 7 March 1965 across the Edmund Pettis Bridge in Selma, Alabama. In what became known as "Bloody Sunday," a police officer cracked his skull, then hit him again as he tried to rise. President Lyndon Johnson introduced the Voting Rights Act a little more than a week later, and it became law that summer. Voting rights remained one of Lewis's social justice passions for decades afterward.
He took office as a U.S. Representative from Georgia in 1986, serving until his death in 2020. He championed a host of social justice initiatives, especially concerning voting rights, and continued to work to inspire young people to carry on the mission of making the world a better place.
In 2018, he wrote:
Do not get lost in a sea of despair. Be hopeful, be optimistic. Our struggle is not the struggle of a day, a week, a month, or a year, it is the struggle of a lifetime. Never, ever be afraid to make some noise and get in good trouble, necessary trouble.
Autobiographies, Biographies and Writings of John Lewis
Across the Bridge: Life Lessons a Vision for Change by John Lewis (2012)
His Truth is Marching On: John Lewis and the Power of Hope by Jon Meacham (2020)
March Books 1-3 by John Lewis, Andrew Aydin and Nate Powell (2013, 2014, and 2016)
Walking with the Wind: A Memoir of the Movement by John Lewis (1998)