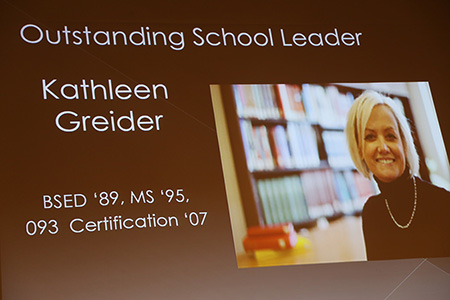 The Department of Educational Leadership & Instructional Technology at Central Connecticut State University seeks to prepare well-educated and competent practitioners who are capable of improving the quality of education for Connecticut's children.
At the undergraduate level, the Department provides courses in Educational Foundations and Teacher Preparation. At the graduate level, the Department offers a Master of Science in Educational Technology and a Master of Science in Teacher Leadership. Two certificate programs are offered by the Department: a sixth-year program leading to certification (092) as an intermediate administrator or supervisor and an official certification program (093) leading to endorsement as a School Superintendent. Finally, the Department offers an Ed.D. in Educational Leadership with two separate strands, PK-12 and Higher Education.
The Department is characterized by its emphasis on leadership for valuing diversity, achieving equity, innovating around technology in education, working towards school improvement and systemic change, and incorporating reflective processes and action research as a guide for decision-making. The Department includes fifteen full time education faculty, several of whom teach courses in other disciplines, in addition to teaching within the Department. The Department also values interdisciplinary collaboration as a means of fulfilling its goals. As such, department faculty work collaboratively to design programs which will prepare professional educators with the skills and dispositions needed to create learning environments where all learners will be successful.