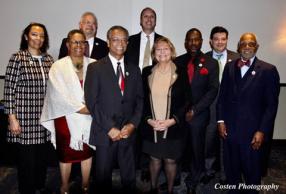 2017 Bassett Humanitarian Award recipients pictured here are: Dr. Jacqueline Harris (daughter of posthumous award recipient Roland Harris), Clara Ruffin, Pastor Richard Ruffin, Barbara Kennelly, June Archer, John Brittain, (Back row left) Peter Rosa, Christopher Teal, and WNPR's Ray Hardman who served as Master of Ceremony.
Eleven leaders in politics and human rights advocacy will be honored at the 2017 Ebenezer D. Bassett Humanitarian Awards on Monday, Oct. 16, at Central Connecticut State University.
CCSU presents the awards bi-annually to highlight the legacy of Ebenezer Bassett who, in 1853, became the first African American to attend and graduate from State Normal School (now CCSU). Bassett went on to become a noted educator, a prominent leader in the abolitionist movement, and the nation's first African American diplomat as the Minister Resident to Haiti.
Humanitarian Award honorees this fall are June Archer; John Brittain, Esq.; U.S. Senator Richard Blumenthal and his wife, Cynthia; Congresswoman Elizabeth Esty; former Congresswoman Barbara Kennelly; Dr. Peter Rosa; Richard and Clara Ruffin, Consul General Christopher Teal; and Roland Harris (posthumous).
2017 Ebenezer D. Bassett Humanitarian Award Honorees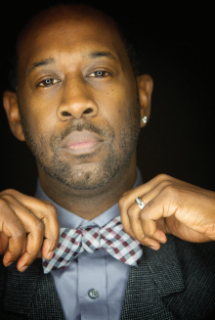 Mr. June Archer
Mr. June Archer is a proud alumnus of Central Connecticut State University who has committed himself to giving back and uplifting people around the world. He currently sits at the helm of a growing multimedia marketing company as President and CEO of ELEVEN28 ENTERTAINMENT. Mr. Archer's early experiences solidified his conviction that he was called to have an undeniable impact on the entertainment industry.
June is a staunch advocate in the fight against HIV/AIDS, and breast cancer. Each year he produces the annual "June Archer's Celebration of Life", which is a charity event that raises funds to benefit various organizations (e.g., Concerned Citizens for Humanity) and recognizes noteworthy individuals in the areas of education, art, sports, government, and service to their communities. In addition, Mr. Archer established the "100 Men of Color and the 100 Women of Color Galas" to honor men and women for exceptional contributions to the fields of business, entrepreneurship, education, government, and service that impact the lives of people in their communities. Since the inception of the 100 Men and Women of Color events, Mr. Archer has used his resources and notoriety to bestow hundreds of recognitions on honorable people in Connecticut and Massachusetts.
Mr. Archer has been the recipient of many honors that formally recognize his work and humanitarianism within his home community of Hartford, CT including "June Archer Day" and "Hot Chocolate Soul Day". Mr. Archer was recognized by the Mayor of Hartford (CT) once again, along with the Governor of The State of Connecticut, proclaimed September 14th as "100 Men of Color Day" in both the city of Hartford and by the State of Connecticut. In addition, he also received the Community Service award by the "Connecticut Chapter of Men and Women for Justice, Inc." in 2013; the "Walk Worthy Award" for community service in 2010, and the "Caribbean Heritage Award (2010)". He was honored by the Connecticut NAACP as one of the "100 Most Influential Blacks in Connecticut" award in (Add year). He has also received RIAA Certification Plaques for Platinum selling works on albums by Jay-Z, 50 Cent and Mario and Gold selling work for Hitch movie soundtrack. Most recently he has added the credit of Executive Producer to his name with the reality show "Docu-Tape and "Behind the Unsigned". Both shows debuted as Fuse TV. Mr. Archer also co-produced motivational pre-game content for Sunday NFL Countdown on ESPN for the 2013-2014 season. Mr. Archer is a motivational speaker and author. He has chosen to inspire and help other by sharing his personal keys to success in a book he titled, "Yes! Every Day Can Be a Good Day (The Key to Success That Lead to an Amazing Life)".
With his combined musical talents, experience in the entertainment industry, and commitment to community, Mr. Archer continues to reaching for the stars and encouraging others to join him. "No goal is ever out of reach," June says. "Once you've realized your dream, that doesn't mean you stop. It just means you dream bigger."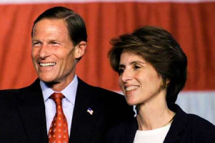 Senator Richard & Ms. Cynthia Blumenthal
The Blumenthals have been married since 1982. The couple have both succeeded in their careers individually and collectively. Richard and Cynthia have committed themselves to helping those in need. Of the pair, Richard is most recognized for his years of service as a Politian and statesman. Senator Blumenthal has served an unprecedented five terms as Connecticut's Attorney General, fighting for people against large and powerful special interests. A key player in the national fight against Big Tobacco, he helped bring an end to deceptive marketing aimed at children – a victory significantly lowering youth smoking rates, and compelling a multi-billion dollar settlement for Connecticut taxpayers. He also helped lead a coalition of all 50 states that culminated in historic agreements with social networking sites to better protect children from Internet predators. As Attorney General, he advocated for reforms in the health insurance industry to assure critical health care coverage and lower pharmaceutical drug prices. He has worked relentlessly to eradicate corruption in state government and make state contracting accountable, fair, honest, and transparent. His aggressive law enforcement for consumer protection, environmental stewardship, labor rights, and personal privacy has helped reshape the role of state attorneys general nationwide, and resulted in the recovery of hundreds of millions of dollars for Connecticut taxpayers and consumers each year.
Even though Cynthia has appeared less visible, she has played a significant role in his twelve successful reelections. Similar to Richard, Cynthia has equally demonstrated her commitment to public service by faithfully serving on community Boards and revealing herself as a champion of various social issues. Ms. Blumenthal is a dedicated activist for women's personal autonomy and fundamental human rights. Senator Blumenthal has been a champion for reducing gun violence, helping veterans, and for his work to establish equal pay for equal work for women. In addition to her leadership roles in her husband's twelve successful campaigns for elected office, she has served on various community Boards including: Meals on Wheels, the YWCA, the Research and Grants Committee of the Fund for Women and Girls, as well as working on specific events to benefit the Breast Cancer Alliance, and Planned Parenthood of Southern New England. She currently serves on the Boards of the Center for Reproductive Rights, is a Commissioner of the National Portrait Gallery, Smithsonian Institution, Washington, DC and serves on the Board of the Bob Woodruff Foundation.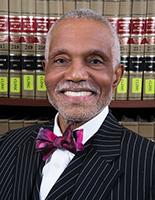 Mr. John Brittain, Esq.
Since 2005, Brittain had been the Chief Counsel and Senior Deputy Director of the Lawyers' Committee for Civil Rights Under Law in Washington, DC, a 45-year old public interest legal organization started by President John F. Kennedy to enlist private lawyers to take pro bono cases in civil rights.
With a career spanning for 40 years, Brittain is a former law school dean at the Thurgood Marshall School of Law at Texas Southern University in Houston. He is a veteran law professor at the University Of Connecticut School Of Law and a public interest civil rights lawyer with residences in Mississippi (1969-73), California (1973-77), Connecticut (1977-99), Texas (1999-2005) and northern Virginia (2005-present). Brittain is a school desegregation specialist and one of the original counsel in Sheff v. O'Neill, a landmark case decided by the Connecticut Supreme Court in 1996. He was frequently mentioned in the book, "The Children in Room E4: American Education on Trial," by Susan Eaton, which is an excellent chronicle of the Sheff case. In addition, Brittain was a part of a legal team that filed a friend of the court brief on behalf of the NAACP in the People Involved in Community Schools v. Seattle School District and Meredith v. Jefferson County Board of Education (Louisville) school cases decided by the U.S. Supreme Court (2007) concerning voluntary race-conscious student assignment plans. Further, he filed a friend of the court brief in the Connecticut adequacy finance lawsuit styled, Connecticut Coalition for Justice in Education Funding (CCJEF) v. Rell (pending in the Connecticut Supreme Court 2009). In one other related area, Brittain has concentrated on the intersection between housing and school segregation, and the policies that contribute to the condition of structural poverty in low income and neighborhoods of color.
John C. Brittain returned to legal academia in June 2009 as a professor of law at the University of the District of Columbia, David A. Clarke School of Law. He teaches the core courses of Torts and Civil Procedure to first year students. At the higher educational level, his mentor, the late Professor Herbert O. Reid, the Charles Hamilton Houston Distinguished Professor Law at Howard University, trained Brittain to pursue comparability and competitiveness for historically Black colleges and universities (HBCUs). Indeed, he earned a BA (1966) and JD (1969) from Howard University. He is admitted to practice in Connecticut, Mississippi, California and associated federal courts.
Finally, his numerous publications have focused on civil and human rights, and he is a frequent dynamic public speaker. In addition, he has participated in filing nearly a dozen briefs in the Supreme Court. He has traveled extensively throughout the world on international human rights investigations in Africa, Central America, the Middle East, Europe, Latin America, and the Caribbean, and further to the United Nations in Geneva, Switzerland.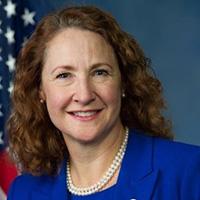 Congresswoman Elizabeth Etsy
Congresswoman Esty currently serves as the U.S. Representative for the 5th Congressional District of Connecticut. Congresswomen Esty was elected to Congress on November 6, 2012. She knows that job creation and economic development is a top priority for the residents of the 5th District. She is committed to reinvigorating the district's manufacturing tradition through investments in infrastructure, research and development, and job training. She is also a strong proponent of helping small businesses and promoting the green jobs of the future in the 5th District.
Congresswoman Esty also serves as Vice Chair for the House Gun Violence Prevention Task Force. As the Representative for Newtown, CT, Elizabeth believes it is critical for our country to address gun violence and make a strong commitment to keeping families safe. That means sensible gun policies – expanded criminal background checks on all commercial gun sales, stricter penalties for illegal gun trafficking and straw purchases, a ban on high-capacity magazines, and a firm and lasting commitment to mental health services. Congresswomen Esty has also acted on her lifetime commitment to equality and fairness.
Congresswoman Esty is committed to reinvigorating the district's manufacturing tradition through investments in infrastructure, research and development, and job training. She is also a strong proponent of helping small businesses and promoting the green jobs of the future in the 5th District.
Congresswoman Elizabeth Esty (CT-05) recognized the outstanding work of African-American community leaders in Central and Northwest Connecticut at the second Annual Standing on the Shoulders of Giants Black History Month program." During Black History Month, we rightfully pay tribute to the giants of the Civil Rights Movement such as Martin Luther King, Jr., Rosa Parks, Thurgood Marshall, and John Lewis, but today we have the opportunity to recognize the heroes in our own backyard," Esty said. "The accomplished educators, veterans, and community leaders we honor today have devoted themselves to public service and have improved the lives of their neighbors in central and northwest Connecticut through countless acts of courage, kindness, and selflessness." In 2016, Congresswoman Esty posthumously recognized Ebenezer Bassett the First African-American graduate of New Britain Normal School, the founding institute for Central Connecticut State University.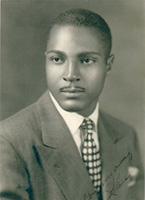 Mr. Rolland Harris (Posthumous)
Roland Stanley Harris Jr., was Hartford's First African American School Administrator, died on Monday, January 9, 2017 at 90 years old. Mr. Harris was born on June 16, 1926 of the late Roland Stanley Harris Sr. and the late Josephine (Harcum) Harris in Hartford Connecticut. He was a lifelong resident of Hartford, Connecticut and attended Hartford Public High School (Class of '44). Mr. Harris was a graduate of Howard University, received a Master's Degree in School Administration from Central Connecticut State University. He graduated in 1956. Mr. Harris was a World War II Army Veteran.
Mr. Harris career spanned many years in the Hartford School System. He began his career as an educator in 1953, as a sixth grade teacher, where he demonstrated a capacity for understanding the needs of children from diverse backgrounds. He was known as having the capacity to inspire the success of his students. He was a mentor to many minority school teachers and administrators who continue to serve students throughout Connecticut. Mr. Harris rose from the racks of a classroom teacher and later became an administrator. Mr. Harris retired from education in 1997 after serving 25 years as the Principal of West Middle School. Mr. Harris left a legacy of serving the needs of children with passion and a commitment to excellence. Mr. Harris could have taught anywhere, but he remained in a school district that needed him the most. Mr. Harris was a life-long member of the Union Baptist Church one of the oldest organized African American congregations in Connecticut. His other noted accomplishments: He was one of the first African Americans hired as a Hartford (CT) public school administrator, a member of the Omega PSI PHI Fraternity, and a Mason with the Masons Excelsior Lodge. He was honored in 2016 with a Lifetime Achievement Award for "Teaching Excellence" by the One Hundred Men of Color organization.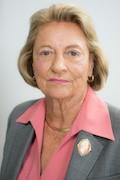 Hon. Barbara Kennelly
Babara Kennelly came from a well-known Connecticut political family and distinguished herself during the 17 years she spent representing the state's 1st District in the United States Congress. In 1982, she won a special election to serve as the Democratic representative from Connecticut's First Congressional District, encompassing the greater Hartford area. Kennelly served nine terms in the U.S. House of Representatives, winning re-election each time by decisive margins. She made history in 1989 when she broke through the ranks of traditionally male leadership to become the first woman to serve as the Democratic Deputy Majority Whip of the House of Representatives. She was the third woman in history to be elected to the 200-year-old House Ways and Means Committee. She was also a member of the House Budget Committee and the House Committee on Administration. In August 1991, Congresswoman Kennelly was appointed as one of three (now four) Chief Deputy Majority Whips, the first woman to hold the position. During the 103rd Congress, she was elected Vice Chairman of the Democratic Caucus, making her, at that time, the highest ranking woman ever in the party's leadership. In addition to leadership and committee responsibilities, she was a member of the Congressional Caucus for Women's Issues, which acts to promote issues of particular importance to women.
During her congressional career, Mrs. Kennelly was the first woman elected to serve as the Vice Chair of the House Democratic Caucus. Mrs. Kennelly was also the first woman to serve on the House Committee on Intelligence and to chair one of its subcommittees. She was the first woman to serve as Chief Majority Whip, and the third woman in history to serve on the 200-year-old Ways and Means Committee. During the 105th Congress, she was the ranking member of the Subcommittee on Social Security, which oversees the largest single government program in the United States.
Barbara B. Kennelly is the President and founder of Barbara Kennelly Associates, a government relations and lobbying firm specializing in health and tax issues, and also serves as a Distinguished Professor of Government at Trinity University in Washington, D.C. Among her many civic involvements, Mrs. Kennelly serves as Vice Chair of the Advisory Board of the Thomas J. Dodd Research Center, University of Connecticut. Mrs. Kennelly also serves on the Board of Directors of the United States Association of Former Members of Congress; the International Foundation for Election Systems; the Board of Electors, Wadsworth Athenaeum Museum of Art, Hartford, Connecticut; and the Advisory Boards of BNA's Medicare Report and the Washington Center.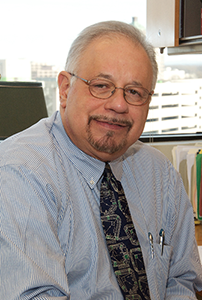 Dr. Peter Rosa
Currently a senior program officer with the Hartford Foundation for Public Giving, Rosa retired from a 30-year+ career in higher education. He was a college admissions officer, higher education policy analyst, university lobbyist, counselor, professor, vice president for student affairs, and a university system student services executive officer. He also was chief author of the state's higher education Strategic Plan for Racial and Ethnic Diversity, a policy document that resulted in the establishment of CONNCAP, the first state-funded program of its kind in the nation.
As an admissions officer, he was accorded the opportunity to serve as a summer "dean" for the Hampton University Institute for Admission Officers of Color where he taught workshops on enrollment management. Rosa also introduced and implemented the College Board's "Spanish SAT" to Connecticut Spanish speaking college applicants who, while proficient in English, preferred to take a standardized test in their native language. Among his professional organizations, he was a founder and president of the Connecticut Association of Latinos/Latinas in Higher Education (CALAHE).
A community activist, Rosa was named Connecticut's first honoree as "Latino Citizen of the Year" by the Latino/Puerto Rican Affairs Commission (1999). Also, Rosa was elected to the New Britain Common Council where he was named Assistant Majority Leader. Later in his brief political career, he was elected to the Board of Education and eventually to the Board's presidency. After retirement from higher education, Rosa was appointed to the Board of Trustees by then Governor Jodi Rell for the Connecticut State University System.
Pete holds bachelor's and master's degrees from CCSU and a Ph.D. from the University of Connecticut. He and his wife, Pam – formerly an academic advisor at the University of Saint Joseph - are the proud parents of two grown children and grandparents of five.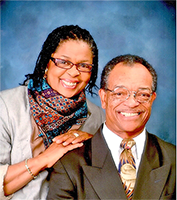 Mrs. Clara & Pastor Richard Ruffin
Richard and Clara Ruffin have been called "Hartford's Best Kept Secret" by a Christian organization that had invited them to speak. They enjoy bringing the Word together and have preached together within the United States as well as out of the country. The couple is inseparable. Most wedding vows emphasize the relevance of "two becoming one". The Ruffins are the epitome of this belief. Not only has the couple joined in legal union, but have also devoted themselves collectively to the cause of humanity. Married for 48 years, they are ordained ministers of the Gospel. The couple was married the first time in 1968, and the second time in 1969.
Pastor Ruffin received his BA degree from Virginia Union University in 1966 and his Master's Degree from Virginia State University in 1972. Ms. Ruffin received her BS from Tougaloo College, Tougaloo, Mississippi in 1967 and her MA from Central Connecticut State University in 1977. The educator couple both began their careers as educators in Virginia. They worked in the Virginia school system for six years before relocating to Connecticut in 1974. Pastor Ruffin taught school for over 30 years. The Ruffin's began teaching in 1975 in Connecticut, Clara in Bloomfield and Ricard in Hartford. Richard is fondly known for years of teaching science at Lewis Fox Middle School in Hartford, Connecticut. The Ruffin's both retired after nearly a combined seventy years of teaching and instruction.
The spiritual faith of the Ruffins has remained a life directing force for the couple. Their compassion for the needs of others has been a motivating force in their work in their community. The couple is well known for their civic, community, and educational work in their community. They have tirelessly and financially sacrificed to uplift those in need. They have been adopted by many who refer to them as their mother and father for the way that have cared for those with fractured families.
In 1985, Richard and Clara founded the Ministry of the Open Door. The ministry was started in their home and later evolved into its present location in Hartford. Through the ministry the couple as provided Christian counseling, provided meals, prison ministry, and provided opportunity for leadership to aspiring Christian leaders. Ms. Ruffin risked her freedom, in 1993, when she smuggling Bibles to China and openly prayed with young Communist soldiers. Pastor and Mrs. Ruffin were both ordained as ministers in 1995. Pastor Ruffin has impacted the lives of many students, parents, and colleagues. He is fondly described as a godly man and a pillar of strength, yet he possesses great humility. A man of integrity, he serves as a mentor and example to others. Pastor Ruffin tirelessly and tenderly loves his wife. Clara has won national acclaim as the first National Christian Educator of the Year by Christian Educators' Association International. She is the author of five books and the founder of an inspirational card company. Clara uses the power of written and spoken word to uplift and inspire.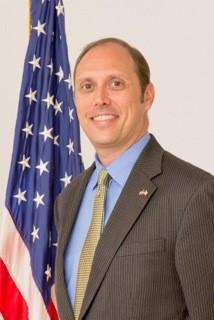 Consul General Christopher Teal
Christopher Teal was born in Pontiac, Illinois, a small farming town just south of Chicago on historic Route 66. As a child he later lived in Little Rock, Arkansas, but always imagined the world outside Middle America and longed to travel the world. It was no surprise that he studied international relations, first at Texas Christian University, then finishing his undergraduate studies at the University of Arkansas. He moved to Washington, D.C. for graduate school, receiving his Master's degree at George Washington University. In 1999, he joined the U.S. State Department, traveling the world while working and residing in different countries including the Dominican Republic, Peru, and Mexico, and Sri Lanka.
Throughout his entire life, Mr. Teal has also been an avid reader and writer. He co-founded his high school newspaper (at Little Rock Catholic High) and has spent most of his professional career working with the media and journalists. When he first moved to Washington DC, he began working with the author and journalist Juan Williams. They spent three years working together on the biography of the first African-American Supreme Court Justice, Thurgood Marshall. Published in 1998, American Revolutionary was listed by the New York Times as one of the most important works of non-fiction for the year.
A career diplomat with the U.S. State Department since 1999, Mr. Teal most recently served as the Consul General at the U.S. Consulate in Nogales, Mexico. He began his current assignment in August 2014. He oversaw programs on bilateral security, economic and trade promotion and cross-border exchanges between the United States and Mexico in the Sonora-Arizona region.
Mr. Teal's prior diplomatic assignments include: Public Affairs Officer for the U.S. Embassy in Colombo, Sri Lanka; Public Affairs Officer for the U.S. Consulate General in Guadalajara, Mexico; Cultural Affairs Officer at the U.S. Embassy in Lima, Peru and consular and press officer at the U.S. Embassy in Santo Domingo, Dominican Republic. In Washington D.C. he also worked at the State Department's Foreign Press Center in charge of the African portfolio and in the European Bureau overseeing public affairs for Southern Europe and the Caucasus.
Before joining the Foreign Service, Mr., Teal worked with award-winning journalist Juan Williams on their biography Thurgood Marshall: American Revolutionary about the former U.S. Supreme Court Justice. Published by Times Books/Random House in October 1998, The New York Times listed it among their most notable non-fiction works of the year. Mr. Teal's biography about Ebenezer Bassett, entitled Hero of Hispaniola, was published in 2008. He has a B.A. from the University of Arkansas and an M.A. in political science from George Washington University.
Mr. Teal is currently on a sabbatical fellowship at Arizona State University's Walter Cronkite School of Journalism and Mass Communication. He is directing a documentary on the first African-American diplomat, Ebenezer D. Bassett. The film, Journey of a Statesman, tells the story of this ground-breaking diplomat and examines the legacy of racial diversity today, nearly 150 years after his appointment.