Our Department offers B.S. Chemistry and B.S. Biochemistry majors, which are professionally accredited by the American Chemical Society. Our students also enjoy student-faculty interactions, educational opportunities, and comparatively low tuition that make us an appealing educational option.
ACS accredited Chemistry and Biochemistry programs
Independent research for students directly with faculty
Active chemistry community, including student organized Chemistry Club
While at CCSU, you will find a supportive environment within the Department of Chemistry & Biochemistry; our upper-level courses are small enough to allow regular discussion with faculty and peers, and our Chemistry Club hosts social events, works on community engagement and outreach, and plans trips to national meetings where our students present original research.
In addition to our teaching labs, the department has advanced chemical instrumentation laboratories that include three major instruments purchased through National Science Foundation. Unlike at large schools, where undergraduates typically work for a graduate student, our students who choose to participate in research work directly with faculty on original projects. The majority of these students give presentations at regional or national conferences, and many have co-authored peer-reviewed publications.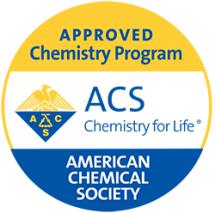 The ACS Committee on Professional Training (CPT) provides guidelines and sets standards to maintain and lead excellence in the training of Chemistry Professionals in the 2020s.
Chemistry Club
Chemistry Club promotes group activities and discussions in the field of chemistry. It opens up work and graduate school opportunities to help prepare for the students professional future. It allows for bonding and interaction to share a common interest. We give back to the community through volunteer work and also promote chemistry throughout campus in an effort to support the sciences.