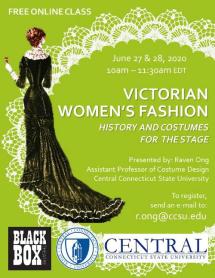 Central Connecticut State University's Theatre Department is hosting a free online course on Victorian Women's Fashion from the 1830s through the 1890s presented by Raven Ong, Assistant Professor of Costume Design. Topics will include Evolution of Styles and Silhouettes during the Victorian era, Embellishments in Victorian Fashion and Practical Application for Stage Costumes. He will include research and exhibition examples from the Metropolitan Museum of Art's Costume Institute, Fashion Institute of Technology (FIT), Victoria and Albert Museum (V&A), Fashion Museum (Bath, England), and our local museums Wadsworth Atheneum and Connecticut Historical Society.
The course will be divided into two sessions:
June 27, Saturday, 10am – 11:30am
Topic: History and Evolution of Styles from 1830s – 1890s
June 28, Sunday, 10am – 11:30am
Topics: Victorian Embellishments and Practical Application for Stage Costumes
To register, send an email to r.ong@ccsu.edu
All sessions will be held on Zoom. Looking forward to seeing you in our sessions.