Alex & Regina Rudewicz Polish Music Series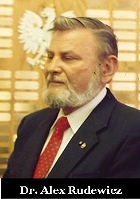 Alex Rudewicz, the son of Anicet and Catherine Rudewicz, came from a musical family. His father studied to be a concert violinist and organized the Bialy Orzel (White Eagle) Band. The band played in Polish clubs in greater Hartford with Anicet on violin, Alex's uncle Kaz on drums, Alex's brother Frank on trumpet, and Alex on accordion.
Alex Rudewicz served during the Korea War on the heavy cruiser USS Columbus. He holds a B.S. from the University of Hartford and has a Doctorate in Dental Surgery from the Baltimore College of Dental Surgery. Dr. Rudewicz is an active member of many professional, community, and veteran-related organizations including the American and Connecticut Dental Associations, the Polish Cultural Club of Greater Hartford, and the Polish Legion of American Veterans.
Daughter of Frank and Mary Tyszka, Regina graduated from Ss. Cyril & Methodius School, Mt. St. Joseph Academy, and the University of Hartford. She and Alex married in 1962. Mrs. Rudewicz is also active in community groups, including the Girl Scouts, Simsbury Woman's Club, the Polish Junior League, and is a past President of the Polish Cultural Club of Greater Hartford. The Rudewiczs have two daughters, Laura (Mrs. David Spannaus) and Kristen (Mrs. Brad McKenzie) and three grandchildren, Alexandra, Hunter, and Cassandra.
Dr. Rudewicz served on the Board of the Polish National Home. Dr. and Mrs. Rudewicz are long-time friends and supporters of the Polish Studies Program at Central Connecticut State University where Dr. Rudewicz serves on the Polish Studies Advisory Committee.
After his retirement from dentistry, the couple moved permanently to Florida. The Rudewicz Polish Music Series was endowed by Dr. Alex and Regina Rudewicz.
The inaugural concert in 2000 featured Andrzej Anweiler who performed music of Rachmaninoff, Chopin, Bacewicz, Szymanowski, and Paderewski.
In addition to the music series Dr. Rudewicz funded the Medal of Merit for distinguished service to Poland. The first recipient of the Medal was the late Prof. Stanislaus A. Blejwas in 2005. Two years later in 2007 the Medal was received by Dr. Michael Peszke. In 2012 Mary Mazurek Heslin and Prof. James Pula were recognized as the two distinguished leaders for their individual achievements and service to the Polish and Polish American communities.