Message from the Chief Information Officer
George Claffey, CIO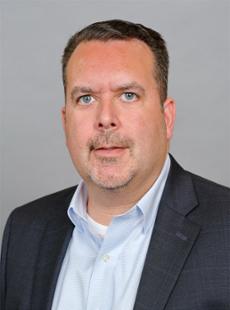 The past academic year has been unlike any other. It was the year of distance and remoteness. Faculty, staff, and students had to learn entirely new ways of doing things. Information technology was tasked with making part of the shift occur - to enable remote and hybrid learning, to enable offices to stay open virtually and process paperwork digitally, to enable students to access the resources of the university, to continually provide new answers to new questions, and to provide a new, technological platforms for student, faculty, and staff interaction and collaboration. It was a scenario that went beyond anything IT had faced before.
The work within IT and at the campus was only possible with a great team of collaborative partners. The University Senate's Information Technology Committee (ITC) has been instrumental this year in its support, leadership, and assistance to the university. The Center for Teaching and Innovation (CTI) was also vitally important, as many of the new initiatives in teaching and learning had their roots in projects the CTI was already undertaking. The Applications Coordinating Team (ACT) made sure that as we enabled services, such as physical mail scanning, the data would be secure, encrypted, and protected. Every member of IT, the ITC, ACT, and the CTI played a role in confronting and overcoming the challenges of this year. From pre-planning "what if" meetings to inventing technology "drive-throughs," the university relied on its technology leadership groups for solutions. As remote-learning and remote-working became the new normal, these groups continued training, problem-solving, and adapting for a hybrid and online Fall '20 and Spring '21 semester. It was truly a team effort.
As the institution looks to return to a post-COVID "new normal," it does so with the awareness that any "restoration" of past practices will be informed by recent experiences to produce something altogether new—what we used to do will be reimagined and reconfigured by all that has been learned in the past year. The coming years will be neither like the past year nor like the years that preceded it, but an entirely new amalgamation. Our task, then, is to learn from this past year in order to cull out from the ad hoc and provisional what are positive institutional, procedural, and technological changes worth adopting on a more permanent basis. Accordingly, the IT leadership teams recognize that they must not simply be restorative but also transformative as we return to regular operations. Specifically, IT will be:
Rescaling where appropriate
Reinventing as required
Returning to baseline where it makes sense
Reducing to optimize
Recognizing what is no longer relevant
IT is excited to be part of the future of CCSU in a post-COIVD workplace and support the 2030 CCSU strategic plan. Through technology, we hope to give students, faculty, and staff the best experience possible to help assist in their success. I am exceptionally grateful to the IT members and all of our collaborators across the university for their help as we navigated the constantly changing environment of COVID.
Thank you,
George Claffey, CIO