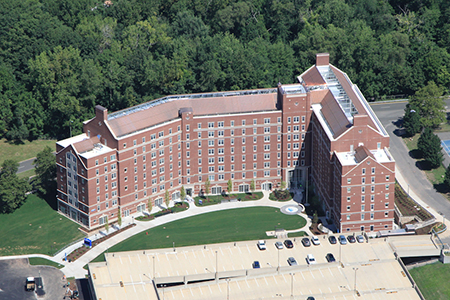 Housing
On-Campus Housing & Meals
Campus housing is not guaranteed, but may still be available in the university residence halls. Please contact Residence Life directly.
NOTE: On-campus housing is always limited during the fall semester. Therefore, applicants must register early. Generally only students who register for the entire fall semester (16 weeks) are eligible for on-campus housing. Students who come Fall II (October) and the Spring ll (March) sessions are allowed to live on campus for eight weeks. Although chances of getting housing during the spring are better, applicants are still advised to register early.
For more photographs of the Residence Halls on campus, please see the Residence Life Page.

Campus Meal Plans: All residence hall students are required to purchase a meal plan during the fall and spring sessions. Note: If you live on campus for fewer than 16 weeks, you must purchase the 19 meal per week plan. Otherwise, you may choose from several available meal plans.
Meals are served in the Memorial Hall Cafeteria or the Hilltop Cafe. There is no food service during major University holidays or breaks. In the summer, you can eat in the campus cafeteria Monday through Friday or at restaurants near the campus, seven days a week. Applicants should declare room and board needs on their application.