Alumni News & Notes
I'm happy to report that I defended my dissertation, "(Un)making Detente: Yugoslavia, the United States, and the Global Cold War, 1968-1980," for the Department of History at George Washington University. It was done via the Internet - not something that I imagined 5 years ago, but I'm glad it's done.
-- Dr. Milorad Lazic, MA '12
[I] started a new job with the DC Historic Preservation Office (my first day was Monday). I'll miss everyone at Morgan, Angel & Associates. I learned a lot there and I'm very grateful to you for initially putting me in contact with them.

In other news, over the past year I used my free time to research and write an article about Connecticut's New Deal-era post office murals. It will be published in the upcoming Spring 2020 issue of the Connecticut History Review, so keep an eye out for it.
I wouldn't have either of these accomplishments if it wasn't for my time at CCSU, and specifically my time in the public history program. [I'm] the office's first public historian, and that's partly why [I got hired]. Everyone else's background skews heavily towards architecture and they wanted someone who could help focus more on people.
-- Todd Jones, BA '08, MA Public History '11
"After I received my undergraduate degree in History (secondary education BS-ED) at CCSU I was lucky to return to Central's History Department as a Public History graduate student a year later. During undergrad and the following "year off," Central's faculty took chief responsibility in supporting all of my professional growth as a historian and teacher. Dr. Leah Glaser's public history insight and connections (along with the kind aid of so many other members of the staff) allowed me to work with the Mark Twain House and Museum, the New Britain Museum of American Art, Wethersfield Historical Society, the National Cemetery Administration, and West Hartford Historical Society in visitor services and education. Without this public history experience and the personalized aid Central provided me, I would not be in my current 'forever' profession as a 11th grade American History teacher at Greater Hartford Academy of the Arts."
--- Kaitlyn Oberndorfer, BSED '18
"At CCSU I found a department with authentic experiences and applicable knowledge to share, but that also offered a degree of flexibility, which made the process manageable. In the course of my education I had the ability to contribute to local historical publications, to collaborate with peers in the field, learn skills from research mentors at the Connecticut Historical Society, add to the informational holdings of various Connecticut historical societies and libraries, and join organizations such as the Honor Society Phi Alpha Theta."
--- Erica Williams, MA 2019
The Department is proud to announce that Dr. David Bosso (MA '08) is one of only five teachers from around the country to be in the 2019 inductee class for the National Teachers Hall of Fame. Dr. Bosso teaches at Berlin High School and works very closely with our social studies education program. Congratulations, Dave!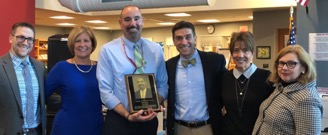 "After graduating in 2015, I worked a variety of jobs, including being a tour guide for the Ebenezer Avery House by Fort Griswold. During the summer of 2016, I moved down to Maryland to work for Historic Ships in Baltimore as an educator. Eventually, I found my path with the National Park Service, where I am going into my second season as a Park Guide in Boston."
--- Austin Sullivan, MA Public History '15
"I am the Manager of Interpretive Programs at the 9/11 Memorial & Museum. I joined the staff of the 9/11 Memorial & Museum in 2014 as an interpretive guide, and now oversee the training of the guide team and the volunteer docent corps. I continue to work as a living historian, developing impressions of historical personae with the Museum of American Armor in Old Bethpage, New York and the Jersey City Office of Cultural Affairs in New Jersey. In 2018, I reprised my one-man show based on the life of firearms manufacturer Samuel Colt at the Springfield Armory National Historic site in Springfield, Massachusetts. The original presentation of An Evening with Sam Colt In Hartford was in fulfillment of my capstone requirement in 2012. I also give talks on urban exploration with the Public Scholars Project with the New Jersey Council for the Humanities."
--- Luke Boyd, MA Public History '13
"I received my B.A. degree in history from the University of Belgrade and an M.A. in history from Central Connecticut State University. I was fortunate to spend two years at CCSU and work and study with a diverse group of people. The variety of courses offered by the History Department at CCSU was truly impressive and allowed me to go beyond my area/period of interest and learn more about social, cultural, and political issues that shaped global, American, and local histories. Moreover, CCSU is a great place to study history owing to the great amount of help and support provided by professors and lecturers. As a non-native English speaker and someone coming from a different educational system, faculty support was crucial for my academic success in this new environment. My mentor and numerous other faculty members (thank you, professors, Maravel, Prescott, Specter, Sunshine, Tully, and Warshauer!) nurtured my intellectual curiosity. Thanks to their encouragement and support, today I am a Ph.D. candidate in the History Department at George Washington University."
--- Milorad Lazic, MA '13
"My time at CCSU is a period of my life that I look back upon with sentiment and gratitude. I always knew I had wanted to be a history teacher, and the relationships I developed with peers and staff solidified my lifelong dream. The professors in the department truly care about you not only as a student, but as a colleague and partner in helping others develop a passion for history. My professors inspired and motivated me to be the teacher I am today. CCSU was and always will be a place where professors really know your name. I am grateful to still be in contact with many of them."
--- Ashly Vallera, BSED '06, MA '16
"The CCSU History Department pushes each academic to their highest potential. With a curriculum that shapes each student to become a skilled researcher, writer, and thinker, the opportunities are endless. My education took me to a professional and academic level I never thought was imaginable. The professors challenge students to analyze typical thinking, dissecting viewpoints and seeing both sides of every argument /debate. Above all, the support from the entire department makes achieving such goals possible. It is one of the most rewarding accomplishments one will experience come graduation day."
--- David Lucian, MA '15
"After spending 2 years at Naugatuck Valley Community College, I was unsure which major to choose once I arrived at CCSU. Once I met the faculty in the History department, that changed. The professors were brilliant, funny, engaging, and most importantly: they truly cared about their students. I enjoyed my time so much as a History major that I decided to apply to CCSU's History MA program. My four years as an undergraduate and graduate student in the History program made me a better learner, thinker, speaker, writer, and prepared me for my transition to the History Ph.D. program at Boston College. I wouldn't be happily on my current career path without the faculty of the CCSU History Department."
--- Joshua Truelove, BA '14, MA '16
"I graduated in May 2017 from the Public History Program and started as a project manager at the Waterbury Development Corporation the Monday after graduation. I have since managed the renovation of the historic Howland Hughes building on Bank Street. On behalf of the City of Waterbury, I applied for and was awarded a Historic Restoration Fund Grant through the CT State Historic Preservation Office to restore the 1921 M.A. Green Clock, located across from Howland Hughes. I managed the demolition of the Risdon factory on South Main Street in Waterbury. I am the City of Waterbury's Enterprise Zone Coordinator. I serve on the Board of Directors of Main Street Waterbury and volunteer with their design committee. I am on the sponsorship committee with the Connecticut Community Foundation. In fall of 2018, WDC enrolled me in the Greater Waterbury Chamber of Commerce's Leadership Class, from which will graduate in June 2019."
--- Zachary Keith, MA Public History '17
"Since graduating in 2018, I have jumped headlong into the field of history and museums. After interning with the CT State Historic Preservation Office, I was hired as the Site Manager for Old New-Gate Prison & Copper Mine, one of the four state museums. As the primary staff person assigned to the site, my job includes everything from facility management to education programming. This past year was the first time the museum was consistently open in 9 years. In the span of 4 months, 11,000 visitors walked through the gate. Working at Old New-Gate has been the hardest and most rewarding task I have ever had. I look forward to improving the museum, learning from my colleagues, and contributing to Connecticut's incredible history."
--- Morgan Bengal, MA Public History '18
"Since my time at CCSU's Public History Program I have involved myself in all aspects of a Public History career. I have worked in historical interpretation, collections, the National Park Service, and in educational programming. Currently I am an 8th Grade US History teacher in Connecticut, and what I learned at CCSU has been vital to my classroom. I incorporate public history, museums, non-profits, and historic preservation into the coursework that my students are working on. My time in the museum world is a major part of my career, so much so that I still work part time at the Mark Twain House and the Connecticut Historical Society doing interpretation and research."
--- Danielle Johnson, MA Public History '12
"I finished my Master's degree in Public History, with a focus in non-profit administration, in 2106. My book, Connecticut Valley Tobacco, is a book on the history, culture, and people of cigar tobacco agriculture. After a stint at the Connecticut Valley Tobacco Museum, I now work at the Connecticut Farmland Trust with the Executive Director and the Board of Directors, helping them to be successful in their fundraising efforts. Additionally, I handle communications, mailings, public outreach and website/social media work."
--- Brianna Dunlap, MA Public History '16
"CCSU faculty afford professional growth through both methodology and fieldwork opportunities. When I enrolled in the Public History MA program, professors facilitated coursework and community projects that spoke to my niche interests; historiographical opportunities gleaned from oral history and digital media. Within two years, I was employed at the Library of Congress, coordinating pedagogically-minded, preservation-based veterans' oral history projects inspired by my CCSU collaborations."
--- Owen Rogers, MA Public History '12
"About 7.5 years ago, I left CCSU with my B.A., and I remember your [Dr. Glaser] courses and support in applying to graduate school at Montana State University. I'm quite proud to attach my completed and defended dissertation, and wanted to thank you for opening my eyes to the history of the American West. I know you were keeping track of graduates and their careers, and I'm proud to now hold a Ph.D. of my own."
--- Dr. Jeff Bartos, BA '11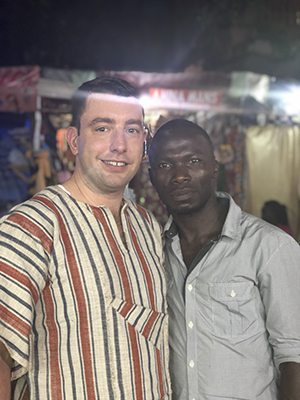 "I just got back from Sierra Leone. I was one of 20 US teachers selected to participate in a teacher exchange program of sorts where one cohort of 10 is paired with teachers from South Africa and the other 10 are paired with Sierra Leonean teachers. Organized by The Gilder Lehrman Center for the Study of Slavery, Resistance, and Abolition, my cohort left JFK on December 26 and spent time in Freetown and the surrounding areas for ten days. We roomed with our teacher partners, attended lectures, saw sights, and engaged with Sierra Leonean history and culture in an authentic way. Some of the sites visited include Bunce Island, a weigh station for the Atlantic Slave Trade, Forah Bay College, the oldest college in West Africa, and a village in the Wara Wara mountains.
"This was an exceptional experience. The teachers made wonderful connections to facilitate intercontinental learning between teacher pairs and we are all looking forward to reuniting this June when the Sierra Leonean cohort will travel to the United States."
--- Anthony Roy, BSED '07
"Part of my CCSU Masters Capstone project involved working with the Norwich City Planner to establish a Village District Overlay Zone. Now I am the Consultant for the Norwich Historical Society (NHS) and the Associate Director of the New London County Historical Society (NLCHS). One of my major projects with NHS was the restoration of the 1783 Dr. Daniel Lathrop Schoolhouse, now home to the Norwich Heritage & Regional Visitors' Center, the "Discover Norwich" exhibit, and the Walk Norwich self-guided trails. In my role with NLCHS, I manage and maintain the organization's vast collection, develop community-based programming and outreach initiatives, and seek development opportunities by cultivating sponsors and donors. I also serve as the Vice Chairman of the Norwich Historic District Commission. I was proud to receive the 2016 "40 under Forty" Award, the 2016 Connecticut Governor's Conference on Tourism Rising Star Award, and the 2018 Mimi Findlay Award for Young Preservationists."
--- Regan Minor, MA Public History '18
"I graduated from CCSU's Teacher Certification Program in 2003 and have been working as a Social Studies teacher at Bloomfield High School in Bloomfield, CT ever since. In 2014, I obtained a Masters of Education in Reading from AIC in Springfield, MA. Just recently, I was certified by the University of Connecticut to teach their ECE Introduction to Human Rights course and plan to offer the course starting this coming Fall."
--- Ross Seigel, BSED '03
"After graduation I was hired as the Curator of Collections and Development at South Union Shaker Village in Auburn, Kentucky. I interned here during my undergraduate career, so it just goes to show how important internships are! I have also recently joined the NCPH New Professionals/Graduate Students Committee. I also serve of Board of Directors the Green River Museum in Woodbury, Kentucky."
--- Sally Givens, MA Public History '17
"I am currently in my sixth year of teaching at East Hampton High School. This year I am teaching Modern Word History and Modern US History. Throughout my career here I have taught Modern World, Modern US, Contemporary Issues, Law and Justice, and Intro to Psych. I feel like I have my 'dream job,' working alongside the best colleagues. This year I coordinated our third annual Veterans Day Assembly, where we invited 20 plus veterans from our local community along with our students' own veterans at home. Students were able to have breakfast with their veterans and they were all invited to an assembly after. I worked collaboratively with EH's VFW Post. This is one of the most rewarding events I have been coordinating the last three years. Being able to see my students alongside with their own veterans from home is so heartwarming."
--- Samantha LaBonte, BSED '12, MA '17
"I am still working with Farmington Public Schools, specifically as a seventh-grade social studies teacher at Irving A. Robbins. I finished my Masters in Ed. Leadership w/ a minor in Kinesiology Leadership from Michigan State in 2016. I am currently starting my 092 at Central this summer."
--- Alex Schwartz, BSED '11