Associate Vice President for Academic Affairs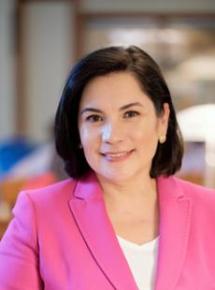 Dr. Carmen Veloria is an Associate Vice President for Academic Affairs. As a seasoned educator and administrator, she has a wealth of knowledge from working in the P-20 continuum as a college access administrator, professor, department chair and researcher. Her advocacy, research, writing, teaching, and critical community service work focuses on issues of race, ethnicity, and language usage with respect to youth, schools, and community. She speaks on these issues both nationally and internationally. In addition to numerous scholarly articles and book chapters, she is the co-author Social Justice in European Multi-Ethnic Schools: Responding to Intercultural Education, which received the 2019 Critic's Choice Book Award from the American Educational Studies Association and co-editor of Intercultural Education: Critical Perspectives, Pedagogical Challenges, and Promising Practices.
Her most recent work focuses on Latine student educational and engagement outcomes before and during the pandemic, in Massachusetts. This scholarship explores the macrosystems of disadvantage – discriminatory policies at the macro-level and discriminatory practices and racial segregation on the microlevel. She is also leading a multidisciplinary team on developing a strength-based practice "tool kit" that emphasizes notions of care and caring through a Latine lens. It includes background information, activity packets/ideas, and information to help practitioners across various educational settings use cultural, familiar, and gendered notions of Cariño, Cuentos/Conocimientos y Consejos (care, stories/ways of knowing, and advice) to demonstrate care and to uphold a culture of high expectations and accountability, while offering authentic and respectful insights on ways of being and moving about the world that are grounded on lived-experience, wisdom, and a desire to help young people thrive in all aspects of their lives.
She holds a BA in Political Science from CCSU, a master's degree in Education from Boston College, and a doctoral degree in Language, Literacy and Culture from the University of Massachusetts at Amherst.
Contact Information
Lawrence J. Davidson Hall, 113
860.832.2225
cveloria@ccsu.edu