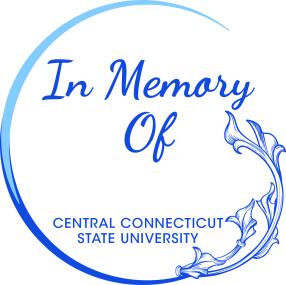 This list reflects gifts to the CCSU Foundation, Inc. from July 1, 2021 to June 30, 2022.
---
* = deceased 
Alan Goldberger
Tina Wells
Alyssa Matterazzo
Natalie B. (Berman) Rosenberg '74
Stewart B. Rosenberg
Anna N. (Nadel) Seplowitz '31
Anonymous
Anne T. De Nuccio '79
Marcia N. Boccuzzi, D.D.S. '74
Anthony J. Rigazio-Digilio
Bette Arey
Anton Batalla
Nancy E. Bean '06
James M. Conway
Virginia DiGilio
David M. French
J. Patrick Howley '66
Diane L. Lindgren
Richard F. Lindgren, Sr. '58
Laura V. (Van Steenburgh) Marchese '86
Gabriella Nawi
Georgette Nemr
Reynolds Onderdonk '02
Carol A. Peltier '14
Dianna R. Rafferty '86
Mary Ann Zieger
Roger T. Zieger '69
Arthur W. Beckius '57
Ramona T. Beckius
Bob Beauregard
Mary Ann (Beauregard) Fichera '88
Brenda A. Reilly
Katherine K. Mullen '78
Calvin L. Kaiser, Sr.
Judith M. (Page) Barry '97
Carol S. (Samsel) Ravagnani '71
Jacqueline P. Escales '90
Anne V. Mackiewicz
William S. Mackiewicz
Louise A. (Bolduc) Olszewski
Henry J. Olszewski, Jr. '74
Margaret L. Quistberg
Carolyn L. (Redden) Cistulli '75
Anita B. (Bossi) Casey '62
Robert D. Casey '62
Joseph V. Cistulli
Kevin Cote
Kevin A. Evans
Diana Henkel
James Henkel
Randy Holmeen
Craig Jordan
Joan Matson
Robert Matson
Martha M. Moynihan
Elizabeth Norton
Richard Norton
Andrew J. Pennington
Chin-Chiu Lee
Roxane Lee
Christine G. (Gallo) Donovan '84
Richard D. Donovan '82
Christine Holden
Mary E. Holden
Chuck Roby
Ronald W. Perry '94
Clinton C. Dunston
Travis C. Lewis '02
Cynthia C. Guertin
Phyllis S. Vinci
Dean R. Erickson '72
Russell E. Wise, Jr. '71
Denis Jaksina
Lisa R. Tomaszewicz '94
Desmond A. McAleenan '94
Bobcat Soccer
Paul Caffrey
Brendan Faherty
Maryanne Fitzgerald
Thomas W. Fraehmke
Emilia V. Gannon
Alon Geva
Arielle Geva
Raffaele Giarnella
Andrew Guard
Monica Kleinman
John O'Rourke
SM Quintero-Chica
Jordan S. Rettig
Marilyn Rettig
Lori Santos-Rizza
Star Goalkeeper Academy Inc.
Cheryl L. Stephenson
Elizabeth A. Lees '08
Aubrey V. Fisher
Eleanor J. Hart
Ellen Pasay
Laura A. Tordenti
Emily Pirog
Angela C. Pirog '79
Katherine B. Pirog '81
Florence Nahorney
Catherine H. (Healy) Jost '74
James F. Jost '70
Florence Perry
Ronald W. Perry '94
Franciszek Stogniew
Ewa Folta-Stogniew
Kazimierz Stogniew
Frederick Giacobbe '65
Elizabeth A. Giacobbe
Gavin M. Zambruski '04
Michael S. Zambruski
Sandra L. Zambruski
Gayle L. Roby
Ronald W. Perry '94
Genowefa Stogniew
Ewa Folta-Stogniew
Kazimierz Stogniew
Gladys M. Jones '79
Jean K. Ranallo
Helene Perzanowski
Hartford Hospital School of Nursing Alumnae Association
Irene B. Guzek '77
Stan Guzek
J. Paul Hickey
Christine Fritz
James A. Vendetti '61
Susan V. Koski '06
James F. Towne '72
John A. Cramer '86
Suzanne M. Towne '88
James H. Hairston '80
John Cappalla
Jane (Caveness) Keleher '05
Catherine H. (Healy) Jost '74
James F. Jost '70
Jared Coffin
Lisa Litrenta
Joanna M. McCarthy '13
Sandra McCarthy
Joanne Markette
Martin B. Smith
John F. Audette '69
Kathleen Audette
John R. Webster '60
John D. Block '75
John J. Keleher '02
Theodore R. Kurnat '84
Jerome E. Libbin '74
Andrew M. Savo '79
Lorraine M. Webster '72
John T. Huntington
Mark Huntington
John X. LeConche
Doria DiNino '95
Joseph E. Hickey '68
Lindsey Fritz
Julie Deloye
Joseph V. Cistulli
Justin Cowen
Thomas Cowen
Karla P. Fox
Nancy F. Judd
Richard L. Judd '59
Ann Stensland
Kathleen Hard
Mark Giulietti
Stephen F. Hard '05
Kathryn Maureen (Gorman) Ianucci '59
Robert J. Ianucci
Kevin C. Oliva '90
AFSCME Connecticut Council 4
David Aldieri
Carrie L. Andreoletti
Anonymous '86 '86
Sarah P. (Panciera) Atkinson '91
Todd J. Atkinson '91
Melody L. Avery
Robert C. Avery, Jr. '98
Aram Ayalon
Kathleen A. Bantley
Jody L. Barr '08
James Bennett
Nathan T. Bergstrom
Lisa M. (Fellage) Bigelow '96
Jan G. Bishop
Richard Bishop
Eric M. Blake '02
Alfred C. Bonvicini '79
Tracey L. (Obst) Bonvicini '89
Nancy J. Boscarino '06
Alicia M. Bray
Paula W. (Wilson) Bunce
Scott F. Bunce
Mary N. Cavanaugh '90
CCSU Alumni Association
CCSU SUOAF-AFSCME
Todd A. Chaplinsky '05
George F. Claffey, Jr. '99
Joseph M. Connell '04
Barbara W. Coughlin
Kimberly M. Csinsi
Krisztina E. Dearborn '14
David H. Defeo '80
Ghassan E. El-Eid
Adina B. Elfant
Carolyn R. Fallahi
Hamid Fallahi
Anthony Famiglietti
Elizabeth A. (Hoerle) Fangiullo
Kimberly A. Farrington
Mary Fenner
Amanda Fields
Natalie C. Ford '94
Cheryl L. Fox
Lisa Anne C. Frank
James M. Frey '17
Gilbert L. Gigliotti
Darlene (Wooten) Goethie '09
Heather K. Gray
Matthew G. Grimm '96
Dana M. (Tonkonow) Hanford
Keith A. Hensel
Wendy A. (Grayeck) Hensel '94
Elizabeth H. (Hungerford) Hicks '75
Richard J. Hicks
Jillian R. (Vollentine) Holt '09
Mary B. Horan
Mark A. Jones
Shelly M. Jones
Charles Jones, Jr. '69
David Kelly
Deborah Kidder
Susan V. Koski '06
David J. LaPierre '08
Sarah N. Leone '11
Carol J. Lummis
Michelle M. Lynes
Kathy A. Martin
Lynne C. Mazadoorian '96
Molly A. McCarthy '93
Kate E. McGrath
Jeffrey W. Mead, Jr.
Brian Miller
Kim Miller
Maria T. Mitchell
Mylinda A. (Howard) Oliva '92
David H. Opozda
Mary H. Opozda
Joseph P. Paige
Ernest L. Pancsofar
Jacqueline S. Parmenter
Kelly N. (Noble) Perrotti '91
Martha M. Perry
James H. Pescarmona '74
Linda Piazza
Derek H. Pierce '98
Lee C. (Lawrence) Pierce '96
Richard F. Piotrowski, Jr. '97
Doreen Piscitelli
Jaclyn N. Piscitelli '07
Louis J. Rascoe
Anne S. Resetarits '09
Paul J. Resetarits
Debbie Ricci
Karen A. Ritzenhoff
Michael Ritzenhoff
Nancy Roach
Richard L. Roth
Kara M. Russell
Mark Russell
Michael F. Russo
Craig A. Schnur
Gurbakhshash Singh
Nicole R. Spencer '95
Amy L. (Skarbek) Strickland '97
Christian J. Strickland '08
Vincenza Testa
Lauren P. Turenne '12
Anne M. (Smith) Tyrrell '20
Cornelius B. Tyson, Jr.
Stephen P. Villanti '87
Jessica L. Walsh '99
Lisa R. Washko '84
Dennis J. Williams
Richard A. Wiszniak '73
Susan Wiszniak
Robert S. Wolff
Mary Ann (Costa) Zabik '97
Kevin V. Goodwin '80
Kathryn J. (Henne) Goodwin '79
Lauren Milani
Tonya Glantz
Leslie M. (McGrath) Taylor
Katherine E. Sugg
Linda M. (Coggshall) Jones '70
Christine M. D'Arcy
Michael J. D'Arcy
Robert J. Larco '70
Lee A. Tryon '70
Linda Sanislo
Linda S. (Sanislo) Gregory '63
R. Scott Gregory
Maria A. Alvarez '90
Myrna E. Garcia-Bowen
Marian (Klatt) McIlvin '40
Mark J. DiMaio
Lynn F. Klatt
Marilyn M. Shesko
Patrick Zetzman
Marlene A. Braun
Katherine A. Hermes
Alexandra C. Maravel
Mary Rapuano Gentile
Catherine Gentile-Doyle
Matthew W. Schall
Terry L. Scala
Gail Schall
Emily (Schall) Thomas
Nathaniel Wernick
Wendy M. Wernick '72
Nick Gianni
Rose A. (Aiello) Gianni '94
Philip Treggor
Josef P. Treggor '84
Phillip H. Fowler '69
Gregory D. Shell '03
Raymond V. Crothers '70
John A. Leonard
Richard A. Williams
Beverly S. (Stevenson) Tarbox '70
Alfred R. Tarbox, Jr. '71
Richard J. Bator
Anonymous '00
Robert E. Trichka
Frank M. Martorelli '71
Joann K. Martorelli
Robert F. Porter
Christopher L. Montes '82
Robin (DiRosario) Crothers
John A. Leonard
Roger Dennis
Thomas W. Olsen IV '89
Ronald M. Pringle '57
Barbara J. Alden
Richard H. Alden
Frederick T. Ambroszewski '67
Patricia R. (Rohan) Ambroszewski
David F. Bagdasarian '72
Rita A. (Gaj) Bagdasarian '72
Kevin T. Burke '91
Michelle M. (Gifford) Burke '90
Leonard J. Corto
Christine M. D'Arcy
Michael J. D'Arcy
Barbara E. (Detrick) Davis '84
Stephen P. Davis '86
Janice S. (Schramm) D'Orio '55
John A. D'Orio '59
H. Douglas Fachnie
Sharon F. Finn '87
Paul Gianaris '70
Kathleen A. Hein
Leo G. Hein
Evelyn F. (Bouchard) Hudyma '08
Catherine H. (Healy) Jost '74
James F. Jost '70
John J. Keleher '02
Kenneth J. Laska
Maryann Laska
Nicole Lenander
Bonnie Peloso
Wendy Pringle
Jere J. Quinn '78
Judith M. (Whitesell) Quinn '76
Jennifer Santiago
Thomas R. Stalgaitis
Cynthia S. Turcotte '83
Robert C. Welles '71
Anne S. (Schultz) Winter '73
Craig K. Winter
James L. Yanosy
Mary E. (Mehai) Yanosy '69
Sammy Tirone
David D. Jack '95
Sandra Weal-Arthur
Karen (Richardson) Weal '17
Sanja P. Trifone '99
Candace Barrington
Mary Brady
Aleksandra Cavarkapa
Guy A. Crundwell
Sudha Kanwar
Chi-Ann Lin
Katarina Lukatela
John D. Marinuzzi '96
Zdravko I. Markov
Marija Nelson
Maribeth Sarnacki
Eric Stano
Gerald D. Stano
Helen L. Stano
Nada Zecevic
Sylvia Wernick
Wendy M. Wernick '72
Taylor A. Greene '16
Allison Granata
Thomas Garrison
Emperatriz Garrison '00
Timothy V. Craine
Katherine A. Hermes
Alexandra C. Maravel
Victor L. Stone
Paul J. Arciero '86
William H. Detrick '50
Mary A. (Neubelt) Cardarelli '87
William E. Cardarelli '92
William Perry
Ronald W. Perry '94
William W. Loika
Joseph E. Begnal, Jr. '84
Denis M. Medeiros '74