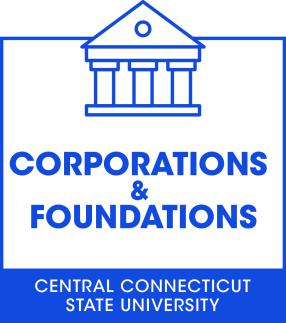 This list reflects gifts to the CCSU Foundation, Inc. from July 1, 2021 to June 30, 2022.
---
4 Sharp Corners
Achieve Financial Credit Union
Aetna, Inc.
AFSCME Connecticut Council 4
Alert Security Plus
Allied Sanitation, Inc.
American Baptist Foundation
American Council for Polish Culture
American Society of Mechanical Engineers - Hartford Section
Andrew J. and Joyce D. Mandell Family Foundation, Inc.
Balgley Family Charitable Foundation
Barbara Miller Giving Fund - DAF
Barnes & Noble College Booksellers
Berger Family Foundation, Inc.
Blue Cross Blue Shield of North Carolina
Blue Jays Baseball, LLC
Bobcat Soccer
Bouvier Insurance
Budney Overhaul & Repair, Ltd.
Carol A. Ammon Foundation
CCSU Alumni Association
CCSU Graduate Student Association
CCSU Student Government Association
CCSU Student Media Board
CCSU SUOAF-AFSCME
CCSU-AAUP
Central Connecticut Chambers of Commerce
Championship Turf Services
Charles Schwab
Charles Schwab Foundation
CIGNA Corporation
COCC
CohnReznick LLP
ConnectiCare
Connecticut Bar Association, Inc.
Connecticut Custom Aquatics, LLC
Connecticut Humanities
Connecticut Mason Contractors, Inc.
Consulate General of the Republic of Poland in New York
Creative Office Interiors, LLC
CTCPA Accounting Scholarship Foundation
Data Mail Inc.
Design Dentistry & Smile, LLC
Di Matteo Family Charitable Fund - DAF
Disney Matching Gift Program
Dunkin Donuts
East Side Car Clinic & Welding Corporation
Elizabeth P. Wick Foundation
Ellen & Richard Bernstein Fund - DAF
Elmer's Place Great Oaks Restaurant, Inc.
Enterprise
Eversource Energy
Eversource Energy Foundation
Executive Landscaping Inc.
Farmington Sports Arena
Five Churches Brewing LLC
Gartner, Inc.
GE Foundation
GEICO
Gertrude S. Bridge TUA
Gilbane Building Company
Goody Tickets LLC
Gorman Landscaping
Greater Bristol Chamber of Commerce
Greater New Britain Chamber of Commerce
Hamilton Street Foundation
Hartford Distributors, Inc.
Hartford Healthcare
Hartford Hospital School of Nursing Alumnae Association
Impellitteri-Malia Funeral Home
Italian American Legislative Caucus Educational Fund, Inc.
Jonal Laboratories,Inc.
Kathy and Pat Thibadeau Family Fund - DAF
Kendall Hunt Publishing Company
KOBIONA LLC
Koproski Family Foundation
Kosciuszko Foundation
L3Harris Foundation
Law Enforcement Research Group
Mack Fire Protection
Martin Laviero Contractor, Inc.
MassMutual Financial Group Companies
McPhee Electric Ltd.
Medical Risk Managers, Inc.
Medtronic Foundation
Mirecki Giving Fund - DAF
Mooyah Fenn LLC
Mueller Greene, LLC
NBT Bank
New Britain Downtown District
Next Gen Supply Group
Northstar Wealth Partners, LLC
Novartis
OFI
Orthopedic Associates of Hartford, P.C.
Parker Hannifin Foundation
Paul L. Jones Fund
People's United Bank
Pepsi Beverages Company
Peter Carter Fund - DAF
Pfizer Foundation
Pioli Family Foundation DAF
Polish American Congress
Polish Women's Alliance #185
Polish Women's Alliance K.K.P.
Polish Womens Alliance of America Group 280
Polish Womens Alliance of America Group 9
Pratt & Whitney Aircraft
Probus Club of Greater Hartford
Professional Marketing Associates
Prozzo Agency, LLC
Public Market of Newington, LLC
R & C Electric LLC
Raymond & Theresa Kalber Family Trust
Raytheon Technologies
Raytheon Technologies Corporation
Regeneron Pharmaceuticals, Inc.
Robert C. Vance Foundation, Inc.
Rotary Club of West Hartford Service Chest, Inc.
Scope Construction Company, Inc.
SEI
Service Management Group, LLC
Shakun and Company
Shea's American Grille, LLC
Sign Pro, Inc.
Siracusa Moving & Storage Company
Skinner & Associates, Inc.
SNE Building Systems, Inc.
Sodexo Stop Hunger Foundation, Inc.
Sodexo, Inc. & Affiliates
Stadium System, Inc.
Stanley Black & Decker, Inc.
Star Goalkeeper Academy Inc.
State of Connecticut Department of Transportation
Stephen Guest - DAF
SUOAF - AFSCME
Surgi-Care, Inc.
Swansons Professional Baseball
The Blackbaud Giving Fund
The CTKL Foundation
The Donald A. Coitnoir Scholarship Fund-DAF
The Fritz Kennel
The Hartford
The Nancy & Jerry Lemega Charitable Gift Fund - DAF
The Old School, LLC
The Polish Social Club of Greater Hartford, Inc.
Thomas Rodden Fund - DAF
Tomasso Group
Torrington Clinics
Town of West Hartford
Travelers Companies, Inc.
Turner Construction Company
Two J's Realty LLC
UnitedHealth Group
US Army Army Recruiting Hartford
Vivo Chiropractic Vernon LLC
VOYA Foundation
Walkama Family Fund - DAF
Waterbury Youth Services, Inc.
Windsor Federal Savings
Wiremold
Xanedu Publishing Inc.