Dr. Robert Schwartz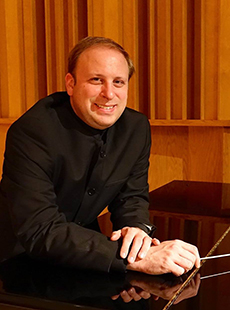 The Department of Music at Central Connecticut State University welcomes Dr. Robert Schwartz as the new Director of Bands. He will be conducting the Wind Ensemble, as well as the Blue Devil Marching Band and Pep Band, and teach music education courses.
Dr. Schwartz completed his Doctor of Musical Arts degree at the University of Colorado (UC) Boulder, his Master of Music degree from the University of North Texas, and his Bachelor of Science Degree in Music Education from Duquesne University. While at Duquesne, he studied conducting extensively under Dr. Robert Cameron. Upon completion of his undergraduate degree, he taught middle school and high school band at Center Area School District for four years.
Dr. Schwartz most recently served as the Director of Bands at Washburn University. His duties there included overseeing all aspects of the band program, conducting the Wind Ensemble and University Band, as well as the Washburn Marching Blues and Pep Band. He also taught classes in Conducting, Orchestration and Enjoyment of Music. He was also the Assistant Director of Bands at Drake University.
While at UC Boulder, his primary teachers included Dr. Donald McKinney and Dr. Matthew Roeder. He was involved with all of the concert ensembles and athletic bands. His dissertation project included an extensive document on the Recording Projects of Eugene Migliaro Corporon, which is being considered for publication. Other research included a repertoire project focusing on works for choir and band as well as vocal soloist and band from 2000-2015. Additionally, Dr. Schwartz has published articles in six of the Teaching Music Through Performance In Bandseries.