Central Style Guide
Logo Design & Treatment
The logo and color of the University are part of our brand identity and should be used consistently on all CCSU publications, marketing materials, etc. Customization of these graphics violates the University Style Guide unless it has been approved by the Office of Marketing & Communications.
Official versions of the CCSU logo can be downloaded here.
Proper CCSU Logo Treatment
The CCSU Crest has 2 acceptable formats. These are the only acceptable uses of the logo. Note the the white portion of the logo remains when the background shows through. Also, note the white ring that encapsulates the crest.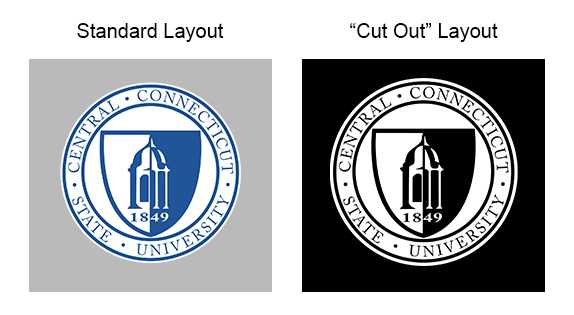 Incorrect Usage
The following logos violate the design of the CCSU Crest.
The first shows the logo with the white out ring removed. This version can appear awkward in different contexts since the blue on the edge of the logo may interact poorly with whatever background elements it is placed next to.
The second shows the white of the logo being removed, and the blue of the logo turned white. This versions improperly displays the logo, and creates a less 'solid' design while distorting the perception of the Clock Tower.
Logotype Layout
There are two acceptable formats for the logo to display the name of the university. The line separating 'CENTRAL' from the rest of the university's name is optional, but writing out the entire name is not.
The official font for the text is Adobe Garamond Pro.