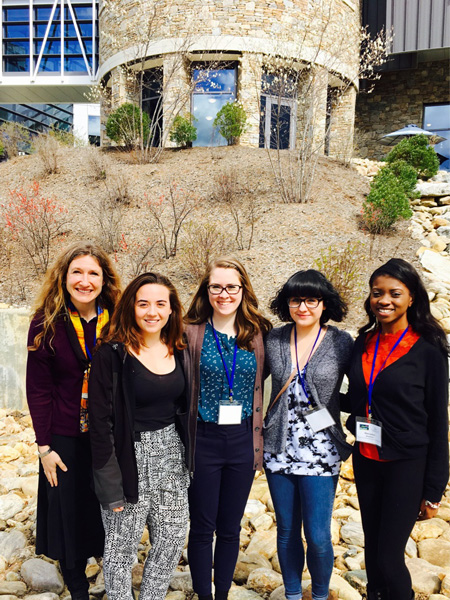 The 2015-16 URCAD Senior Prize winners at the National Conference of Undergraduate Research at the U of North Carolina, Asheville.
The 2022 University Research and Creative Achievement Program (URCAP) is an exciting opportunity to highlight and celebrate student creative activity across disciplines.
There are three components to which students can apply:
URCAP Undergraduate and Graduate Research Awards – Applications will be evaluated based on content and require a recommendation from an advisor. For undergraduates, one award will be granted per school; two prizes are available for graduate students, one for a master's candidate and one for a student pursuing a doctorate. The awards consist of a cash prize and funding to participate in an academic conference.
URCAD University Research and Creative Achievement Day – An opportunity for all students to showcase their research via virtual presentations. Applications for the Research Award (see above) will be automatically submitted to URCAD event.
Elihu Burritt Library Research Awards – This award recognizes excellence in undergraduate and graduate research papers/projects as well as skill and creativity in the application of library services, resources and collections. A prize of $350 will be awarded to an undergraduate and graduate student during the 2022 spring semester. For more information please go to https://library.ccsu.edu/services/award/application.php and/or contact Susan Slaga-Metivier at slagas@ccsu.edu.
Relevant Deadlines:
Friday, March 11th, 2022 - Submit for the Undergraduate and Graduate Research Award (including a faculty recommendation)
Monday, February 28th, 2022 - Submit for the Elihu Burritt Library Research Awards
Friday, April 8th, 2022 – Submit your abstract for the University Research and Creative Achievement Day
This year the URCAD event will be held virtually on Friday, May 6th 2022.
Faculty involvement is an important component to the success of this event: please encourage your students to apply and also consider volunteering as judges. To volunteer as a judge, please register here.